Dec 3 2015: Happy Holidays! My keynote speech!
Thursday, December 3, 2015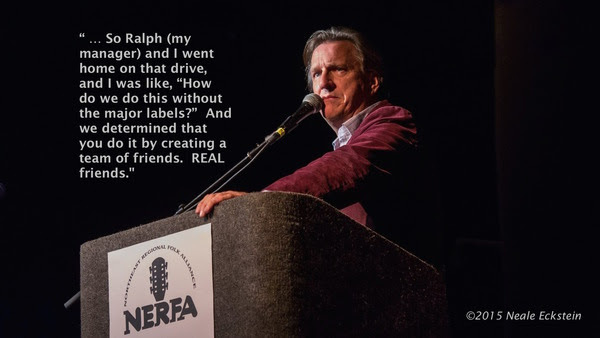 Happy holidays!
Many reasons to celebrate this year. My tree is up and the advent calendar has three broke open doors and the Elf on the Shelf is causing mayhem on a daily basis. (Who invented that guy, for some reason he destroys my place at night?!) I realize I will do anything to make my kids smile.
Today I am sharing my keynote speech that I gave at NERFA (North East Regional Folk Alliance) conference a couple weeks ago. It's the story of how I built my music career within a community of dedicated friendships. If you are a musician, a creative person, or you are running a small business, I think this will have value for you.
Check it out and please pass it along to people who might connect!
We have a holiday sale
going on at the website! There are books and CDs and plenty of holiday music for sale!
The
24th annual New Year's Eve shows
at Club Passim in Cambridge, Massachusetts are also on sale and the tickets are going fast! Please join us! Rad Lorkovic, Don Conoscenti, and Laurie MacAllister of Red Molly, Betty Soo and Flynn will share the stage with me. A Holiday Concert Window show, shows in Maine and NYC are also on the calendar.
It's going to be a busy holiday season... I hope to see you at a show!
Happy Holidays-
Ellis