Oct 8 2015: Imagine a Mexican cruise!
Thursday, October 8, 2015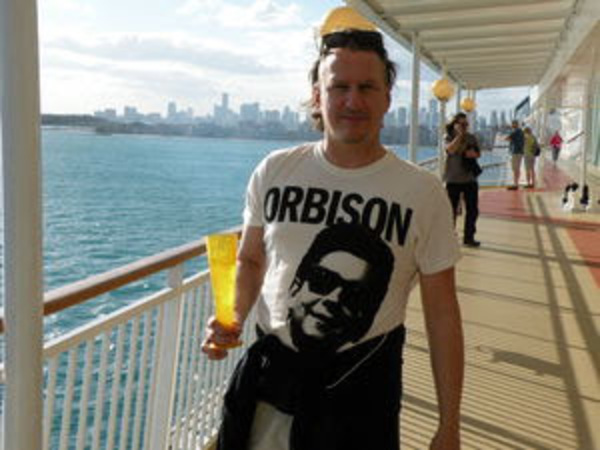 I'm sitting in my apartment in Charlottesville watching Fall roll in. Like a tide. I have an overlook view of the Blue Ridge Mountains and trees are finally giving in to the yellows and browns. It's gorgeous here. And warm still, so the colors come without your breath turning white as it does in the Northeast. I have the windows open.
I'm packing and about to do a weekend run through Florida,
club dates
, a house concert, an elementary school, a private show. I will be driving ahead of the leaves and color changes. I have this way of weaving in and out of the seasons!
Next week I am in Philadelphia and New England -- more schools and clubs, the
Tin Angel in Philly
-- a historic venue that I have been running through for twenty years.
Jammin' Java
in the Washington DC area on
October 30th
. And I will even be in the very heart of the Fall. In perhaps the most beautiful place to witness it, Northern Maine for a quick show, in Houlton.
In this way, I'm like a needle threading through the seasons. It makes time blur a bit. But I love knowing vastly different geographies and climates and altitudes. An upcoming trip this winter to Mexico will really warp the seasons! But, It's all part of the bonus of being someone who spreads themselves across the toast that is the United States and beyond. Avoiding snow is always welcome to me.
The new children's book is out!
"The Night the Lights Went Out on Christmas"
is a story about a neighborhood in Medford, MA and an extraordinary blackout that happens on Christmas Eve. I'm writing songs for the musical/play/radio/TV special. The artwork was done by Scott Brundage and looks amazing. You can find these at my shows or the
website
.
CRUISE TICKETS!
The Mexican Cruise! We only have nine days before the ticket sales are closed! Radoslav and I will be leaving Tampa on
January 7
on a four day cruise to Cozumel, Mexico! Returning
January 11th
! We will be giving concerts and parties along the Gulf of Mexico way, and then Mexico itself will offer a myriad adventures, from swims with dolphins to walking up the stairs of Aztec ruins. Leave the seasons again with us -- abandon the snow and the squalls and convince yourself it is summer for a weekend!
PRIVATE SESSIONS!
If you'd like a guitar lesson, or songwriting advice, preproduction and recording advice, or creative mentoring, check in with us! We can set up one on one visits in person or via Skype and elevate your skill set!
TEACHERS!
If you are a TEACHER and would like a school visit in person or via Skype to your classroom -- contact us! I write songs with kids and sing songs from my children's albums. These are a lot of fun! Or you'd like to perform the musical of "The Hero in You" at your school check in!
PRIVATE SHOWS!
Every month I perform in homes for private concerts-- parties, anniversaries, and get togethers! Let us know when you want to book yours!
I've got a busy Fally and Winter coming up - hope to see you on the road!
--Ellis