Feature
Aug 13 2015: Live album!! Mexican cruise!! Holiday book!!
Thursday, August 13, 2015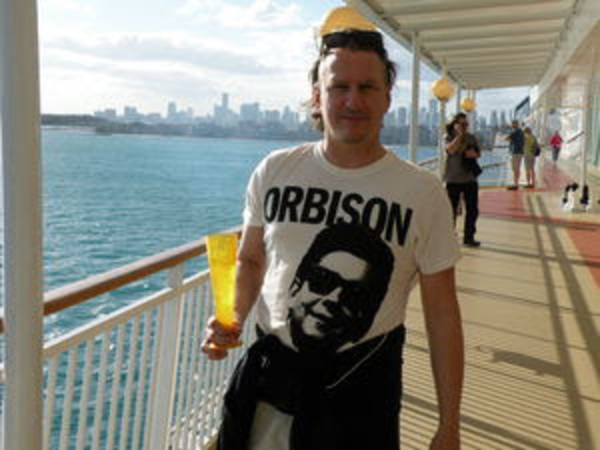 Hi Everyone--
It's
midnight
and I am listening to the new live album at my computer in Charlottesville, VA. Don Conoscenti, somewhere up in the mountains in Taos, New Mexico, is sending me mixes one by one from two thousand miles away. The show was recorded at SPACE in Evanston, IL, and there are references to Illinois and the Black Hawks and I feel like my art is somehow being spread across the entire country. From sea to shining sea almost. That's the story of my life really, the wheels roll everywhere. Why should tonight feel differently?
The show had an incredible audience energy that comes through in every song. They sang and laughed and at times became the most important part of the show. Don's attention to detail is beyond anyone that I know, and the mixes show it. He's giving me the friendship rate for his time, and doing this for next to nothing in between mixing his own album and growing cucumbers out in his garden. It will be coming out soon! Keep an eye out in October!
Lots of shows coming up!
Trips to Michigan, Boston, Tennessee, Ohio, Indiana! Yes, the wheels do follow every highway!
One show you can watch from your home is the
First Annual Tiny Living Room Concert Window Festival
to benefit the
Childfund
! It is happening on
Sun, Sept 20th
from
1pm to 7pm
and I will be hosting with the following artists' sets;
1pm
Ellis Paul
2pm
Vance Gilbert
3pm
Mark Erelli
4pm
Antje Duvekot
5pm
Chuck Cannon
6pm
Natalia Zukerman
What a line up! It's like having a little Newport Folk Festival in a living room!
We will all be gathered in a home in Westwood, MA in front of a live audience. Taking turns and singing together and pitching for contributions and sponsorships to the Childfund, which supports the lives of children in parts of the world where assistance from people like you is crucial to their survival! Someone from Childfund will be manning phones from their offices for sponsorships and a portion of the proceeds from the concert itself will be going to the charity as well!
Spread the word!
The new Children's book is here! It's a holiday book regarding a neighborhood in Medford, MA where I once lived! Scott Brundage was the artist, and it's called "The Night The Lights Went Out On Christmas". Scott did a remarkable job bringing the story and the neighborhood to life! The book also comes with music and can be purchased at shows or through my website.
Pre-order your copy now!
Speaking of Christmas! Rad and I are going on a post holiday cruise from Tampa, Florida to Cozumel, Mexico from
Jan 7th-11th
!
Come join us
for music, exploring, adventure and margaritas! We have concerts and workshops and social gatherings for our group, as well as just hanging out in the sun! This would make a great holiday gift for the Ellis Paul/Rad fan in your life! We are hoping to get enough rooms to add additional artists!
Sign up now!
We close the booking in October!
Well that's it for now! Hope to see you out on the road
--Ellis
Amplifi Update
Have you checked out my Amplifi channel lately? I've been sharing lots of great music, photos and stories there, including a demo of a new song that I wrote with Jamie Kent. Speaking of Jamie, he was the first artist that I profiled in my artist of the month series. It's been fun to highlight some of my favorite artists, from emerging talent like Jamie to friends (Don Conoscenti) and inspirations (Joni Mitchell).
Visit my Amplifi channel
to learn more and to join me for music and conversation.