May 22 2014 - Ellis Paul's Commencement Speech at University of Maine!
Thursday, May 22, 2014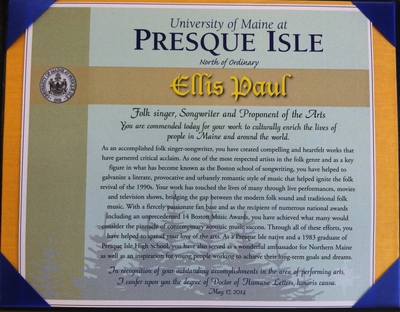 I am very honored to be here. I'd like to thank the University, President Schott, the faculty and honored guests. And the graduates of the class of 2014.
My birth name is Paul Plissey. Sometime in the 1800s, an ancestor of mine in Washburn, Maine who couldn't read or write but thought he ought to try, put his name on important birth documents and deeds and misspelled the perfectly fine name of Pressey and turned his entire future family tree into Plissey after Plissey after Plissey. Imagine what a seventh grade bully does to a name like that on the middle school playground. I knew it had to go if my music was going to find it's way to radio and I created the stage name, Ellis Paul, when I started writing songs in my twenties. But today I am talking to you AS Paul Plissey. The kid that grew up here right next to the high school on Hillside Street and calls Presque Isle his hometown. I'm going to tell you my story, because we have this place in common.
I graduated from Boston College in 1987 and it seems like it must have been a very important day. Yet, I have no memory of who the commencement speaker was. I'm certain it was somebody really important who probably said important things but I don't remember any of it. I don't know if I was distracted or anxious about my future; the memory is just gone. But I really remember the gowns. This sea of 2,000 people dressed completely alike in these costumes that seem to be a combination of a clown suit and the grim reaper. Except those smarties with the colorful sashes. Why do we still do this? This conformity is odd to me. Why on the smartest day of our lives do we wear these ridiculous medieval grim reaper clown costumes? Don't you think that if we graduate in costume it should reflect the diversity of our individuality, who we are and where we are going? I think we should come to this ceremony dressed as the dream of what we want to become. Astronauts, presidents, teachers, mimes... imagine the selfies.
When you are five, the world accommodates your bold dreams and visions. They invite them. You get to dress as a cowboy, as a princess. You get handed a crayon and paper, draw a fairy with butterfly wings, your Mom says "You are going to be the next Picasso!" and she magnets it to the refrigerator like it's hanging in the Metropolitan Museum of Kitchen. In first grade you write a story about a wolf in the forest and your teacher says "You're going to be the next Ernest Hemingway!" In third grade, your Dad buys you a trumpet, and even you can recognize that only horrible sounds are emitted from it, but he still says "You're going to be the next Miles Davis!"
No one ever says "You're going to be Paul Plissey!" No one ever says "You are going to be you!"
No one tells you that all of your inherent gifts and strengths, hard work and mistakes, weaknesses and insecurities, victories and losses could actually be enough to carve your life into a success story that was truly all your own. But that's what's coming.
The older you get, the less accommodating the world becomes to your vision of yourself. Try dressing like a cowboy now. Try drawing a picture of a fairy now. The naysayers arrive. The doubters. Sometimes they are even in your family. Your friends. Your teachers and co-workers. Or society as a whole. You're not talented enough to learn how to paint in Paris. You want to join the circus? Are you crazy?! Women can't become CEOs.... sometimes life starts setting up obstacles. Babies and marriages and rent and mortgages and bills, all weigh upon the dream of you. But you must dream. A dormant dream will fester and eat you alive. It re-emerges in awkward red convertibles and electric guitars at fifty. Respect your inner vision of yourself. it will eat away at your soul if it sits untended.
In the seventh grade my Dad asked me, "Are you trying out for the basketball team?" I said, "No, Dad, I'm trying out for stageband and I can't do both." He looked at me like I was insane. He knew what a huge basketball town Presque Isle was and that I was walking away from all of the social perks that being a high school basketball player would bring. He had this expression on his face like maybe he was even questioning my sexuality or something. Like I was coming out of the closet as a musician. He said-- "You could be the next Michael Jordan!!" He was afraid I would be the next Elton John.
But the arts were where my talents were. I did love sports. I ran cross country. Track. But they had the same social perks of being on the chess team. But I loved to run! And I ran a lot. Up here at UMPI every day. I became the best runner in state. I got a track scholarship to BC, and was chosen best athlete my senior year at the high school here. My parents were proud, but it wasn't what they had expected.
I went to college and told my parents I was going to be a doctor, they were so happy they agreed to help pay. Then I failed bio chemistry. I realized it wouldn't be good for the health of the general public for me to be a doctor. I switched to English. Got back on the deans list. After college with my expensive BC degree I worked with inner city kids as a caseworker for $17,000 a year. Then I told them I was quitting social work to become a folk singer. Complete homelessness was the next step. I began playing music in clubs around Boston. I was officially a startling musician.
When I was twenty six my Dad stopped me on the stairs when I was headed out for a show. "You can't do this, " he said. "I can't do what?" "You can't keep doing music, you've gotta go back to school and get a graduate degree." What I should've told him was: "If I work hard enough at music, someday, somebody's gonna give me one of those degrees for free!" But I had no idea this was coming today.
It wasn't his fault. He was just worried for me. Parents do this. They have watched you take your first step. Kindergarten graduation. High school graduation. And now, today, you have earned some legitimate wings. Your parents will hover less, they want you to make your own flight plan. They want you to move out of their basement.
They have had a dream for you -- they want you to be safe and successful, be a basketball star, get a degree, become a doctor, lawyer; any job that brings security. And then get married, be happy, have kids. But it's not their life. It's not society's life. Or your friends. It's yours. Become the person your heart is asking you to be. Take risks. Be bold, but be careful.
There were people in this town who convinced me I could be a creative person in the world. Some were teachers I had at the high school. Doug Paiva, Richard Kennison, Paul Carlson, Dan Ladner. My parents, friends. Running taught me I could achieve what I want with daily hard work. And I never gave up on that. I have, hopefully, a long path to continue living creatively and I'm grateful to this town for installing faith in me.
Online, on the internet are virtual worlds. Where you can create an avatar of yourself who looks like a 6-foot five supermodel, buy Versace for him to wear, buy him a mansion on the water for mere pennies. Your avatar can fly! To brilliant exotic places and talk to other super model avatars in Dublin, Sydney, Paris. This realm is for people that haven't taken advantage of opportunities the real world offers. The person behind the beautiful avatar you are ballroom dancing with could be a truck driver in Pensacola Florida, who is bored. Broke. Lonely. He doesn't realize we are living in a world that is meant to be yours. You have the talents and gifts to be your own avatar.
Be you. Be here. Take advantage of your chances and your strengths in the real world. Focus on some goals. And meet them. They never tell you you can be you. But you will be.
Thank you, congratulations, and good luck!
To watch the commencement video, click here!

43:25: Introduction of Ellis Paul by the University of Maine's President
47:00 Ellis' commencement speech
59:00 Ellis' unveiling of the school's Alma Mater "Rise UP Presque Isle" by Ellis Paul
1:01.00 Honorary degree Dr. of Humane Letters awarded to Ellis