Dec 2 2013 - New Song from Ellis Paul, Album Update & Final Fundraising Week!!
Wednesday, October 2, 2013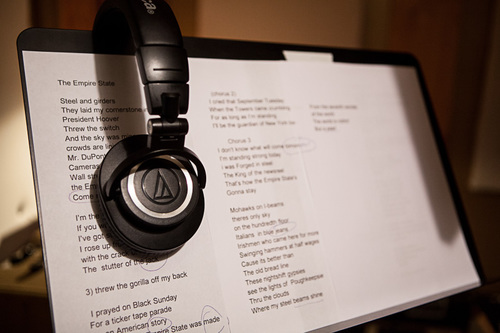 Hello everyone!

I am writing to thank you all as we close out the year long fundraising campaign for 'Chasing Beauty', the tentative title for the upcoming CD project. We are in the last recording stages, doing instrumental over-dubs and lead and background vocals and the recording will be finished soon! We are hoping to have it in hand before Christmas, if not then early 2014. Fingers crossed!!

The project is being produced by Kristian and Brandon Bush in Atlanta and features members of Sugarland's band and special guests, Red Molly and Adam Ezra.

Collectively we have crossed the $100,000 mark with our fundraiser! And matching the last campaign for 'The Day After Everything Changed' though with significantly higher contributors, (600 plus!) We are closing the campaign THIS WEEK, so if you haven't yet donated -- now is the time!! Let's give this new album one more push of support and bring it home!

We have been one of the greatest success stories in the music industry for fan funded recording budgets and I'd like to thank you all for allowing me to continue the process of growing as a artist. I'm thrilled with these songs-- if you've seen me out on the road you've heard 'Kick Out the Lights (Johnny Cash), 'Chasing Beauty', 'Hold Me, Scold Me' and 'Empire State'. These will all be included plus numerous more.

The new Christmas/Holiday Cd 'City of Silver Dreams' has been remastered and will be released in the month of November. If you are a contributor, one has been sent to you already! The CD was recorded in Boston and produced under the able eyes of Flynn.

In other good news! We are in negotiations with a great children's book publisher to produce 'The Hero in You' and 'The Night the Lights Went Out On Christmas' as children's books! More on the details in the next newsletter!

I'm lucky and humbled to have such a giving group of people graciously support my work. Many of you I know and call friends. Thank you all! It gives me confidence in the work I am doing, and the faith that I can continue.

As a thank you for all of your support, I'm sending you the first sneak peek at the album.. below is a rough mix with a scratch vocal of a new song called 'Jimmy Angel's Flying Circus'... The end result will have a new vocal pass, background vocals, additional instruments and a clearer overall mix-- however, we wanted to treat you to a song in process and here it is.

Some background info - Jimmy Angel was an actual person! A barnstormer in the 1930's and in the early years of aviation, he went from town to town in the Midwest giving rides on his airplane as well as performing some incredible stunt flying. He went gold hunting later in life flying over the jungles in Venezuela looking for gold and silver sites for a mining company. While doing this, he discovered the tallest waterfall in the world! Today it is called Angel Falls in honor of him. The song is historical fiction-- I imagined him in constantly shifting relationships because of his nomadic lifestyle, and wrote this from the perspective of someone he left behind.

Hope you enjoy it! (Please don't publicly share this song! A better final version is coming soon!)


See you all out at shows soon!
Ellis

SNEAK PEEK AT NEW SONG "JIMMY ANGEL'S FLYING CIRCUS" -- CLICK HERE!!
WHERE IS ELLIS THIS WEEKEND?
New England! Ellis is headed to Portsmouth, RI for
Common Fence Music on Saturday
, and to Collinsville, CT on Sunday playing at
Bridge Street Live
... come say hello, and hear some of the new songs played live!