Dec 13 2012 - Year End Message from Ellis Paul, plus Free Holiday Song!
Thursday, December 13, 2012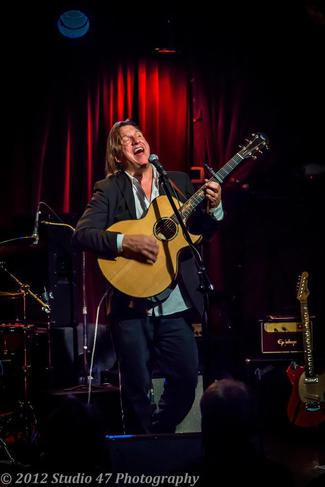 Hey y'all---

We are happy to have the new holiday CD "City of Silver Dreams" in hand! The project was built over many years, and I am so pleased to have it ready for the holidays --- we are not releasing it commercially until next year, so you can only get a copy first right here. Flynn's studio production and mixes were a great match with my original Christmas songs.

We are including a free download of one of my favorite tracks today, 'Mary, Mary' as a sample of the work we've done. Happy Holidays - enjoy and spread the song around!

Presently, I am busy at work in Charlottesville prepping new songs for the new album project, we are recording in Atlanta under the watchful production eye of Kristian Bush of Sugarland fame, who I'm thrilled to announce will be the producer of the album! I have been playing the new songs in front of audiences across the country and the response has been amazing. I'm still in the hunt for a new song or two to throw in the mix.

The fundraising campaign for this next album has been going great-- 300 people have contributed to the project--- we are aiming for 1,000! The last project had 250, so we are doing great. Please help us spread the word!

It's been an incredible year for me of traveling, performing and experiencing the country. For most of this year and last, I was traveling with Peyton Tochterman, whose music I have dedicated a year plus to mentoring and sharing with people. It's been great to see him grow and evolve and become a confident, insightful artist. Peyton is now moving on to his own shows, and I hope you'll keep supporting his talents as he travels around the country.

Earlier this year, I released 'The Hero in You' CD, which won a prestigious Parents' Choice Foundation Gold Award, and received amazing reviews around the country in the family music category. The songs are based on the lives of important Americans, from Ben Franklin to Rosa Parks and more. The producer, Flynn, and I are very proud of this recording and I think it will continue to be a staple in homes, schools and libraries in the future.

Looking forward to new songs, new shows and new experiences out there in 2013!

On to TX and Oklahoma this weekend--- my team & I wish you a safe and joyous holiday season!

Best,
Ellis
"CITY OF SILVER DREAMS" OFFICIALLY OUT AND AVAILABLE FOR THE HOLIDAYS!
We are so thrilled to announce that Ellis' very first holiday album is officially out and available to our fans! A long time coming, "City of Silver Dreams" features 9 original holiday tracks written by Ellis (with some co-writes with Kristian Bush and Jennifer Nettles of Sugarland!) and one classic holiday cover. The album is not being released commercially until NEXT year, a Nov. 1st, 2013 National release -- this is truly a gift from Ellis to his fans, to be the very first to own the album.
Order now to get it in time for the holidays!
FREE SONG FROM ELLIS' NEW HOLIDAY ALBUM!
Ellis & team want to take this moment to thank you for your support of Ellis and his music this past year!
Please enjoy a complimentary track off of Ellis' new holiday album, "City of Silver Dreams", entitled "Mary, Mary".
To download your free track, please visit:
www.nimbitmusic.com/ellispaul
and enter in the code
MERRY
(all caps) in the promo box. Push redeem and voila!
FAN FUNDED ALBUM UPDATE
In case you haven't yet heard - Ellis is once again partnering with his loyal fans in a fan fundraiser for his next studio album, slated for April 2013 release! (If this is news to you, you can read
all about the project here
!)
We wanted to take a moment to update all of you who have donated, or may be considering being a part of the project.
First, THANK YOU to all who have donated! You are truly the reason Ellis can continue to create and perform his art, and we truly thank you. The first round of incentives for donating have gone out the door - all first level 'Harvest' donors should have received an email with a download link to "City of Silver Dreams", and all other donors should have received their copy in the mail. (If you are a donor and you have not yet received your copy, please email
ellispaulproductions@gmail.com
with any issues.)
Next, our goal is to reach 1,000 donors and we are currently at 300 donors -- which is 50 more than our last fundraising project, so we're already on our way! Please continue to help spread the word about Ellis, his new album, and the opportunity to partner with him. Let's keep the momentum going and get this album made!
ELLIS' NEW YEAR'S EVE WEEKEND OF SHOWS
Finally, we are so excited for Ellis' 16th Annual end of year celebration at Passim in Cambridge! Ellis will be performing 4 shows at Passim in two nights, on 12/30 and 12/31, and tickets are going fast, fast, fast! The early show on 12/30 is already sold out, and there are a handful of tickets left for the remaining shows -- these shows WILL sell out, so
get your tickets now
!
Ellis will also be performing for the 4th straight year at Boston's First Night festivities on 12/31, with two special family shows at 3:30pm and 4:45pm on 12/31. Come enjoy an afternoon of music, ice sculptures and more!
More info & tickets here
.
Many, many thanks to all of you out there in internet land for your continued support of Ellis throughout the year - Happy holidays to all!
With holiday cheer,
Ellis Paul Management Team