Nov 13 2012 - New Ellis Paul Holiday Album (Pre-Order Now!) + New Song Video + Even More News!
Tuesday, November 13, 2012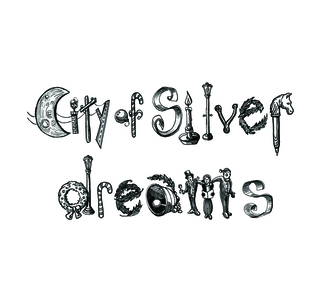 Hey everyone--

It's been a crazy couple of weeks between traveling, promoting, fundraising for the new album coming out next year, and doing the final touches on the upcoming holiday CD. My producer Flynn has done a remarkable job on the holiday recording, which is called 'City of Silver Dreams'. Nine of the ten songs are original pieces of music, and I am hoping that these songs will eventually find their way onto other artists holiday albums, as two have on Sugarland's holiday CD 'Gold and Green'. I finished the artwork last week, and Flynn just finished the mixing and mastering-- you can officially pre-order the album starting TODAY (see below), and the release date is Dec. 1st!

Now that 'City of Silver Dreams' is finished, I can refocus on the finishing touches on songs I am preparing for the next studio CD coming this Spring. As part of the fundraising campaign, we are shooting behind the scene videos in my home studio of rough drafts of possible songs for the album.. They're not final, we're bringing you into the process so you can see how a song sounds as it's being created. We're including a video of one of the new songs that is under consideration below via the link, called 'Wasted'. 'Wasted' is a look at someone who is hurting and chooses to escape through a night of debauchery with the bottle. We may have all found moments of escape, so I think this is a fairly universal theme. I love what my new guitar Guinness does in this song, playing percussion as actively as chord changes. The next six months of shows will be a testing ground for new material and I won't be concentrating on the older stuff as much-- let me know what songs are working for you!

My dream is to have twenty songs and then trim it back to twelve for the project. I'm looking at snippets of ideas and some older ideas that have been around for years... let me know what you like and what you'd like to hear. Mainly, I want the songs to be built around my guitar, and to stretch my skills as a guitarist and songwriter who composes for guitar. Lots of work to be done to get the songs ready, so I will be writing through the holidays. We have to decide when we are recording, where we are recording, and who will be producing. All of those decisions will be made when we get deeper into the fundraising process. It has been going very well since we started a month ago, and I'd like to thank you all for that-- I love that I can make art that is mine, and my family's, through the helping hands of people who are caretakers of it's existence.

We have set a goal to have a thousand contributors to the project! Of course, this starts with the basic level of simply pre-ordering (ie, the 'Harvest' level). Then the levels raise and raise again with increasingly more interesting selections of art, lyrics, house concerts, jingles, and guitars. We have nearly 200 contributors involved in bringing 'Shoot Out the Satellites' (tentative title!) to reality so far-- and we will continue fundraising over the next few months, as the project needs to be funded to be able to send it out to radio and media outlets and bring it to life. We are not setting financial goals for the project as much as wanting to maximize the amount of people who want to be engaged in the process.

I hope you enjoy the video of 'Wasted', and 'City of Silver Dreams'!

Give us feedback! I wish you all a happy Thanksgiving, if we don't talk before then.

See all of you out there!
Ellis
NEW HOLIDAY ALBUM! ORDER YOURS TODAY!!
We're thrilled to bring you Ellis' first holiday album,
"City of Silver Dreams"
! You can pre-order your copy today
HERE
. Release date is December 1st, with CDs being shipped out on Monday, Dec. 3rd.
If you're a contributor to the fundraiser, as an incentive you will be receiving either a digital or physical version, depending on your level of contribution... but you can always give a few out as gifts - pairs well with everything!
WE'RE NOMINATED FOR A BOSTON MUSIC AWARD! VOTE NOW!
Ellis has been nominated for
Folk Artist of the Year
at this year's
Boston Music Awards
! Voting ends this Saturday, Nov. 17th, so be sure to take 4 seconds (literally!) and vote now!
Step 1: Click on this link:
www.bostonmusicawards25.com
Step 2: Scroll down to
Folk Artist of the Year
Step 3: Check mark the box next to Ellis Paul and click 'Submit this Vote'
Step 4: Feel good about yourself for the rest of the day.
You can vote multiple times in one day, so feel free to return and vote more than once! Thanks for your support!
NEW SONG, NEW VIDEO!
A first look at a possible song for Ellis' upcoming new album in the Spring of 2013!
As part of Ellis' fundraising campaign for the new album, we're bringing you behind the scenes looks at rough versions of the songs as they're created - take a listen to "Wasted"
HERE
.
You can
read more about the fundraiser here
... or
contribute today!
(Note: scroll down!)
(You can also see new song "Chasing Beauty" on the above Youtube video channel, as well as a message from Ellis about the fundraiser. Both are also located at
www.EllisPaul.com
.)
NEW YEAR'S EVE AT PASSIM!
Following tradition, Ellis will be playing four shows at Club Passim in Cambridge, MA for his 16th Annual end of year celebration over the span of December 30th and December 31st, two shows each night!
Additionally, we're thrilled to announce this year's shows will be CD Release Shows for Ellis' BRAND NEW HOLIDAY ALBUM (as mentioned 30 seconds ago above!), "City of Silver Dreams"!
The always sweet and very talented
Rebecca Loebe
opens both shows on the 30th, and producer/musician extraordinaire,
Flynn
, opens both shows on New Year's Eve.
Tickets are selling EXTREMELY quickly, so get yours now while they last!
Click HERE for tickets
, then scroll to the 30th & 31st.
Finally, Ellis will be performing two shows this weekend in Virginia, at
Jammin Java
, an adult show on Friday night and a family show on Saturday morning, and then
joining Susan Werner for two shows at the Tin Angel
, celebrating the Tin Angel's 20th Anniversary.. if you're near Vienna, VA or Philadelphia, come say hello!