Aug 5 2010 - Ellis Paul July (OK, August) 2010 Newsletter
Thursday, August 5, 2010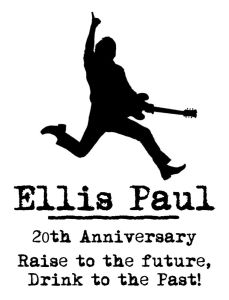 The EP Video Contest – You're not too late!
The myriad of videos that have radiated from your YouTube channels to our eyes have captivated our attention for months now, and first, we want to thank each and every one of you who have submitted your entries to the video contest. There is some truly exceptional talent in our midst.
We've had several requests to extend the contest deadline. After mulling it over at EP HQ we decided that, much like staying up well past your bedtime for the sake of good company because nobody wants to miss the next thing… we are officially extending the submission deadline by two more weeks!
For those of you who did not get a chance to submit, you now have until
August 15th
to send in your entry. To keep things fair, anyone who has already submitted a video is welcome to re-edit and re-submit their video if they so choose. There will be no further extensions, so please get your entry in asap!
[Contest recap: Create your own music video for any song from Ellis' latest release The Day After Everything Changed and enter by uploading your video entry to your YouTube channel, then send a submission email with your name and a link to your video to: ellispaulproductions@gmail.com. The winner of the contest receives a $1,000 Grand Prize and there are also great 2nd & 3rd place prizes. ]
Check out the videos that have been submitted so far (as well as full submission rules) at
EllisPVideoContest
.
September Sugarland Shows & the Ellis Paul Band
It's been mentioned a few times, but teaming up with a platinum selling duo is worth repeating - Ellis is opening for Sugarland on 3 nights of their Incredible Machine Tour! The best part? It's only a month away!
Ellis joins the Grammy-award winning band for shows in Pennsylvania, New York and New Hampshire… and he's jumping on stage with a full band! Ellis will be joined by Matty Metcalfe on banjo and accordion, Michael Clem (of Eddie from Ohio) on bass, and Rusty Speidel (of SGGL) on guitar. You can catch the 4-piece at the following venues:
Friday, September 3rd - Bryce Jordan Center - University Park, PA
Saturday, September 4th - Doubleday Field - Cooperstown, NY
Sunday, September 5th - Meadowbrook US Cellular Pavillion - Gilford, NH.
Full information on these shows, including where to purchase tickets, can be found on
www.EllisPaul.com
and
www.SugarlandMusic.com
Win Brunch with Ellis Paul
Ever wish you could spend a little time with Ellis, away from the flurry of performance night activity? Well, here's your chance! Purchase your reservation to Ellis' September 10th 8:00PM Common Ground concert
BEFORE SEPTEMBER 1ST
and your name will automatically be entered into the BRUNCH WITH ELLIS RAFFLE..
If you are one of the first forty people to purchase your reservations, your name will be entered into the raffle twice .
Ellis will be pick the winner during the Sept. 10th performance. The lucky winner will have a completely decked-out organic brunch on Saturday, Sept. 11th with Ellis following his 11:00AM children's concert.
Go to the
Common Ground website
for full raffle information and ticket purchase link.
Fan Story of the Month
Many (if not most!) of the Ellis Paul fan stories seem to describe how Ellis' music has brought people together. This is one of those stories.
It was 1999. I was in my mid 20s – a time of discovery and excitement – and I was looking for that special someone. Lady luck was on my side because I met that special someone by chance when plans for an evening got detoured…. and I ended up connecting with friends at a local establishment that I rarely frequent. One of those friends introduced us. At the end of what was an enchanted evening, I asked for her number. Would she like to get together again sometime? "Yes", she said with a smile and slipped a matchbook across the table with fresh blue ink on it.
In the days following, I pondered how to make our first official date one to remember. While sitting in traffic waiting to enter the Squirrel Hill tunnel, nothing was grabbing my soul. Driving at 5 mph on Pittsburgh's Parkway East not only allows you to reflect, but also provides time for extensive radio surfing! My finger made repeated changes to the dial, station after station….until I stumbled across a voice that ended my search. My finger slowly lifted and my body relaxed. What I heard was purely magical and I was instantly transcended by the voice and lyrics coming through the speakers. Who is this? Why have I not heard this voice before? Like a child on Christmas Eve, I anticipated discovering the name of unidentified voice. Eventually the on-air host announced that the voice was that of Ellis Paul….and I learned that I had happened to catch Ellis live on the World Cafe radio show, performing several tracks off of the then-new Translucent Soul. And, as if the stars aligned, he was going to be performing at a Pittsburgh venue called The Rosebud later that week!
A few days later, my future wife and I had the pleasure of spending an evening of discovery with Ellis Paul! With raw emotion, his voice takes you into secret places of your soul. Two special bonds were created that night: one with the woman who is the love of my life, and one with the musician whose music touches me in ways that words cannot explain. Thanks, Ellis, for eleven years of music and for letting me share my story.
Jeremy Nicholson
Pittsburgh, PA.
[For having his fan story selected, Jeremy and his wife will be guests at an upcoming Ellis Paul show of their choice. To have your fan story considered for a forthcoming newsletter, please submit them to Karen Zundel at kmzundel@comcast.net …and PLEASE put Ellis Paul Fan Story as the subject line.]
From the Archive
Karen dug through the archive to find something special for EP fans this month… check out her note below.
Since Jeremy Nicholson's Ellis Paul Fan Story takes place in 1999 and includes a show at Pittsburgh's now-defunct Rosebud venue, here's a gem from the Archive, recorded that very same day. The link below takes you to a pristine recording of "Everything's Broken" recorded live in the WYEP studio – one of three songs Ellis played that afternoon during an interview with WYEP's Rosemary Welsch.
This
link
will be available for the next seven days only, so don't wait too long to have a listen!