Feb 21 2012 - Ellis Paul February 2012 Newsletter - Including a Free Song for You!
Tuesday, February 21, 2012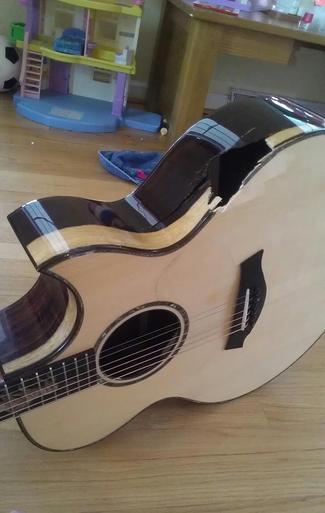 Hey everybody...

I have some sad news . Some of you know that I have been traveling with a new guitar, which I've named Guinness because of its unique dark and tan wood tones. It's a beautiful instrument, a Taylor custom made guitar with horses on the neck and a rich ringing tone. My dream guitar. Recently, at a show, a PA speaker was nudged and fell onto the stage, and onto Guinness, putting a gaping hole in its side and ripping up the wood on its top.

I've had terrible guitar accidents before, but Guinness has become a soul companion and this is the.closest thing to a near terminal hit I've seen in awhile. You can see for yourself in the photo...

I've shipped the guitar to Taylor, so the people that made him can give him the best possible care. He'll hopefully be back in my hands by Spring and we will post a complete set of before and after photos...

Meanwhile, to make ourselves feel better, we are including a free song for you to download in this newsletter from my brand new family recording about American heroes, "The Hero in You". The song is 'Nellie Bly'. In choosing these subjects for the CD, I had to do research projects and determine how to cast the lives of these incredible people, such as Woody Guthrie, Rosa Parks, Chief Joseph, into a three minute song. Nellie became one of my favorite subjects.

Nellie Bly was an investigative journalist who was born Elizabeth Cochran in 1864 near Pittsburgh.

Her path was defined by writing bold stories that stretched the public perception of what a woman could accomplish during her time period both as a writer and for the adventuresome nature of her subject matter. At the beginning of her career, she was assigned the boring tasks typical of female reporters of her time - tasks of writing about food and plays and home maintenance. Eventually she coaxed her editors into increasingly adventurous topics including exposing the mistreatment of women in sweat shops and the inequality they suffered in the workplace.

On one bold assignment, she feigned mental illness, was placed in an asylum for ten days, and then wrote an expose on the mistreatment of patients, which eventually changed the laws and rules of how those institutions are run. She also took a daring trip around the world, keeping a diary of her travels for the 'New York World'. She circumnavigated the world in under Jules Verne's 80 days around the world.

She was an incredibly brave lady.

On the song, producer Flynn [www.Flynnmusic.com] did an incredible job of creating a sonic three dimensional world. You feel like you're at the ship yard celebrating Nellie's incredible life journey. Antje Duvekot takes a verse, and Flynn and my family sing on the choruses.

Enjoy, and if you like the song, explore the rest of the album. You can purchase it here: https://ellispaul.com/?page=nimbitshop


Best,
Ellis
FREE song download - "Nellie Bly" from Brand New Album, "The Hero in You"!
Please enjoy this free download of "Nellie Bly"! Simply click this link
http://soundcloud.com/ellis_paul/2-nellie-bly
and then click the download button...ENJOY!
THIS Thursday in Nashville at The Bluebird Cafe!
We're happy to announce that Ellis is returning to Nashville, TN this Thursday to play a favorite venue, The Bluebird cafe. The show kicks off at 9 PM and you can purchase tickets here -
https://ellispaul.com/index.php?page=calendar#event&display=5390
.
Christopher Williams (
http://www.christopherw.com
/) opens.
Headin' to Folk Alliance 2012...
This week Memphis will once again be filled with great music as Ellis showcases at The Folk Alliance Conference. The Folk Alliance Conference is an annual event of celebration, education, and entertainment attended by industry professionals and artists from around the world... If you're attending, be sure to catch Ellis' official showcase on
Friday, on The Heritage Stage at 7:30P.
The First Reviews are In!
We're extremely excited to announce the first reviews of "The Hero in You" are coming in with glowing marks... check them out for yourself!
http://www.acousticmusic.com/fame/p07712.htm

http://technorati.com/entertainment/music/article/kidtunes-america-has-something-to-sing/
http://momdoesreviews.com/2012/02/02/ellis-pauls-the-hero-in-you-cd-review-and-giveaway/

http://www.myspringfieldmommy.com/2012/01/ellis-pauls-hero-in-you-review.html

http://www.familymanonline.com/?p=502

http://www.momslifemadeeasy.com/2012/02/kids-music-series-hero-in-you-by-ellis.html
http://travelingwithbaby.net/2012/02/17/interview-with-songwritermusician-ellis-paul/

http://lewistonauburn.macaronikid.com/article/243598/ellis-pauls-new-cd-the-hero-in-you-a-big-hit

http://www.creators.com/lifestylefeatures/books-and-music/kids-home-library/music-to-entice-kids-to-cut-the-rug-and-then-kick-back.html

http://flyinshoes.ning.com/profiles/blogs/ellis-paul-the-hero-in-you-black-wolf-records?xg_source=activity
Let's hope they keep rolling in... many thanks to all for your support of the new album. If you haven't already picked up a copy, head over to Ellis' store and get one today -
https://ellispaul.com/?page=nimbitshop
.
See you down the road!