Nov 3 2011 - Ellis Paul November 2011 Newsletter
Thursday, November 3, 2011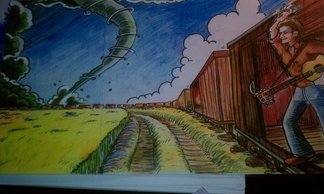 Bill Morrissey produced my first album. He lent his advice, his time, his insight and his thoughtful suggestions and humor. He told me who to listen to that came before my time, and when the investment of his time became uncomfortable for me I said, "I can't repay you for this", and he said, "pay it forward". Bill said, "I'm repaying the debt I owed to Dave Van Ronk and Tom Rush through you, you don't owe me anything."

What he did for me was invaluable, he kicked me leaps forward into the folk world, and to this day, I continue to try to repay him with a commitment to helping emerging acts any way I can.

I should bring up Bill's songwriting, which we all learned from... the brevity of the language, the cold vividness of the pictures he created, the solemnness. The zen of his three minute movies. His banter, dryer than a New Hampshire cold front. All those were valuable to me.

But even more was how he wore the mantle of artist, how true he was to it. How he lived and breathed it. In those early days I wanted to be like Bill because he was the real deal. He couldn't take it off, and he was both tortured and elevated by it. It was like having a breathing Van Gogh in the living room. I wanted to talk his ear off before it came off in some god knows what kind of mishap. He had it like I aspired to have it, and I still burn to reach his level of commitment.

I wish I had more time, especially in the last few years. I love you Bill. Miss you, and thank you, thank you, thank you...

-Ellis
BILL MORRISSEY TRIBUTE
A tribute concert will be held in the Boston area on November 17th, to honor Ellis' former mentor, Bill Morrissey. Bill took Ellis under his wing as an up and coming artist and introduced him to his fans just as Ellis is doing with his favorite new songwriter,
Peyton Tochterman
. Due to prior engagements, Ellis sadly cannot attend the Boston tribute, but he will be honoring Bill during his own show in Bill's home state of New Hampshire that night... Come out to honor Bill together with Ellis.
Show information can be found
here
.
NEW ELLIS PAUL ALBUM IN DECEMBER!!
We're excited to announce that coming up quickly on the horizon is the release of Ellis' new family album entitled, "The Hero in You". This project is a follow up to Ellis' NPR Top 10, "Parent's Choice" Awarded family album, "The Dragonfly Races". The new album, which includes hand-drawn illustrations by Ellis, will focus on true American heroes throughout history. The album is slotted for release this December, and pre-orders will be available by mid-November. We'll be sure to keep everyone updated as we near the release, so keep an eye on Ellis' website!
ELLIS COMES TO NEW ENGLAND THIS WEEKEND!
Ellis will be taking New England by storm (but he promises he won't knock out the power!), with special guests
Radoslav Lorkovic
on the keys and
Peyton Tochterman
on guitar. Friday night Ellis performs at the beautiful
Katharine Hepburn Cultural Arts Center
in Old Saybrook, CT at 8PM. The next night he will be heading over to Peace Dale, Rhode Island to play at
'Music at Lilypads'
at 7:30PM. Ellis will be back in Connecticut Sunday night in Wilton at 6PM, to perform a special benefit show at the
Wilton Presbyterian Church
. The church DOES have power, so take a break from your game of candle-lit monopoly and hear some great music! Ellis wraps up this swing through New England in Hallowell, ME at
Slates Restaurant
at 8:15PM for a combination of great food and music! You can get more details for these shows and more on Ellis' tour page.
ELLIS ON FOX TV CT TOMORROW, FRIDAY NOVEMBER 4TH!
Catch a live performance from Ellis! Ellis will perform live on Fox CT, so if you're local, tune in to Fox CT at 9am. You can also check out the
Fox CT Website
!