school visits
Quotes
from Students and Educators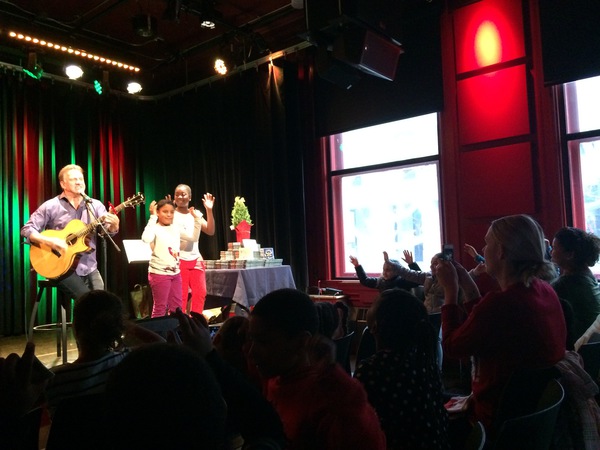 "My class was so excited to hear songs about many of the famous Americans that they just had written biographies about."
- Sheila Dillion, Graham and Parks School, Cambridge, MA
"The presentation was outstanding. He is a wonderful singer and songwriter. His songs have meaning and were well-presented.
The kids were engaged the whole time."
- Dassi Citron, Grade 2 Teacher, Scarsdale, NY
"Ellis mesmerized almost 500 students from kindergarten through fifth grade with his story telling, singing and, most of all, his invitation to participate. The children sang, swayed, did hand motions, responded, sang along and all around "owned" the concert along with Ellis. They especially loved singing 'Wabi-Sabi,' which they had learned both as a song and as a concept and the fast, faster, even faster rendition of 'This Land is Your Land.'"
- Susan Reiss, teacher at Imagine School in Land O Lakes, FL
​
"It was wonderful to have Ellis Paul come to Heathcote and to see him in person. Not only were the children delighted to meet and sing with the musician whose songs they had studied, but Ellis himself seemed equally delighted to hear the children singing his songs. Ellis was so warm and personable as he sang his songs and taught the children the history behind the heroes and the songs." - - Lindsey Hicks, Learning Resource Center Teacher, Scarsdale, NY
"The thing I like about Ellis Paul is his songs, I think he's a good song maker and singer. He might be a hero for music! I also like his book. He must be a hard working man."
- Sembete George, 3rd grader at the Haggerty School in Cambridge, MA
"He made an indelible impression on these kids that I am sure lasted for a long time into their future. He did not talk down to them or try to win them over with anything false. He was modest, sincere, funny and inspiring. I will not forget him playing his heart out in our school library, to an entranced gathering of 200 6-8th graders. But what impressed me, being his friend, was that he played with just as much fervor and passion for them, as he did at the show I saw him perform at the Tupelo that night--for a packed adult audience."
- Ann Young, teacher in Derry, NH
"His tone with the children was as wonderful as his music. Every person in the room - child and adult - was happy and engaged!"
- Cheryl Higgins, Scarsdale, NY
"Ellis' performance engaged everyone in the room, kindergarteners and adults alike. It's clear Ellis really enjoys performing for kids!"
- Shelley Irvin-Kent, Balwin School in Cambridge, MA
"Ellis Paul's dynamic performance of "The Hero in You" kept our 4th graders on the edges of their seats. Between his amazing songs, he included short lessons about the famous subjects of his songs. Kids were learning as they tapped their feet to Paul's catchy tunes. But the highlight had to be whn Paul led a 60-person sing-along to the folk classic, "This Land is Your Land," complete with choreography. Ellis Paul's performance will not soon be forgotten by the children of Graham and Parks school and we are excited to add a signed copy of his new book to our classroom library."
- Jocelyn Marshall, Grham and Parks School in Cambridge, MA
"As in his performances for adults, Ellis connected with his audience (of children) in a warm, intimate and down-to-earth manner. He made every song he performed engaging and interactive, whether having the children sing along or use sound effects or movements. The children loved him and are still talking about and singing his songs!"
- Lisa Onofri, Grade 2 Teacher, Scarsdale, NY