Oct 3 2005 - A New Song: Snow in Austin
Thursday, May 3, 2007
10-3-05
Cambridge, MAHey y'all... welcome to the new forum for blogging. I am still new at this, so I am easing in. I will be keeping the same discussion site as well, for off topic discussions... but tihs will be topic driven every week or so...I carried this song idea for months and finally finished it as I was driving in Austin a couple of weeks ago. I had this plan to do a Christmas album, but it's looking unlikely for this year. I'll keep writing for it though... Christmas happens every year, after all... This is the first edition and I may be changing some of the lyrics. I wanted to add some landmarks in Boston too, maybe... we'll see. I never thought I would use armadillo in a song. They are so sad, those frozen landmarks of the great Texas highways.
•- Ellis
Snow in Austin
I woke up to frost on the window
I'd been sleeping in a snowglobe town
6 inches on the groundYou always said I'd never would see a white Christmas
snow angels never make it to Texas
but you were wrong
They're outside singing Hank William's songsIf snow can fall in Austin
Why can't you fall into my arms?
So you say your home is Boston
What's New England got on all these Texas charms?tumbleweeds
dance on the ground
armadillos
upside downhave you ever seen a cactus Christmas tree?
Come see
There's a snowman standing out on 6th street
with a hat, a scarf, outside a blues bar
it's Stevie Ray Vaughn with a broom guitarRemember that night at Las Monitas
Our heads were numb from frozen margaritas
Imagine how
cold they would be now
Oct 19 2005 - Sugarland, A Great New Country Trio
Thursday, May 3, 2007
Charlottesville, VA
10-19=05
About three years ago I was sitting on the back porch of an old friend of mine, Kristian Bush. We were at his home in Decatur, GA. We've been friends for years through Eddie's Attic in the early nineties. He'd been in a duo on Atlantic records called Billy Pilgrim, but was currently not touring. Kristian had taken a day job in computer programming to make ends meet. He and his wife, Jill, had a baby and another one coming soon.He was always plotting though. He told me that day that he had been writing songs with Kristen Hall, one of my favorite songwriters, and that they had decided to form a country group.
This amazed me because I couldn't imagine the two of them in cowboy hats belting away about trucks and mama and such...They went out searching for someone who could give the songs heart and believability and asked Jennifer Nettles to join the group. Jennifer had been wailing away in her own group and a group called Soul Miner's Daughter, and had the kind of voice that could blow the top of a budweiser bottle. She joined.When I heard the demos of the early songs, I was completely blown away and quite sure they would be successful. In fact, I had never heard such a sure thing in all my days traveling. And this is with John Mayer, Shawn Colvin, Patty Griffin among my early aquaintences. But y'all know the music industry isn't always about talent or the songs. These guys have it all, but even that was no guarentee.I love it when things go well for well deserving people.Well now they have sold over a million copies of their new album,
Twice the Speed of Life
. Their first single
Baby Girl
just set a record by staying on the country music singles chart longer than any song in history. They just got nominated for three CMA's including the Horizon award for best new artist, best vocal act, and song of the year. Damn!And, they were also nominated for an American Music Award for best new artist in ALL genres. It's bedlam. They are working six nights a week and every day as well...Check them out, if you get the chance on a country music station, CMT. Or at
http://sugarlandmusic.com
.See you guys out there!
Ellis
Oct 29 2005 - What It Takes to Write a Hit Song
Thursday, May 3, 2007
October 29th, 2005
Charlottesville, VABeautiful day here. The colors are just statring in VA, and I have to think that they already are on their way out of Maine where I have lived the last few years. Charlottesville is on the edge of the blue Ridge Mountains and though New England is leaf peeping territory, this part of the world is incredible this time of the year. And warmer..But I miss the ocean... I may ask the audience tonight to impersonate wave sounds, like a crashing surf in Maine...All in all, without the water, Charlottesville is one of the best places to live in the whole country... Keep that quiet though, people are coming here in droves.. New contruction is happening everywhere...I thought I might take a moment to discuss radoio hits and how they happen. Many people come up to me and tell me they wish they heard me on radio, because radio is so generic sounding to them. There is some truth to that. The exciting thing is the XM and Sirius will be in almost every new car in the next few years, so the radio monopolies like Clear Channel won't control what you are hearing. You can plug into the Cafe station on Sirius, or the folk show, or the blues show, or the comedy, sports, heavy metal.. whatever you want...For someone new artist on a big label, a lot of money, a lot of luck, and some good people power help makes a hit song. Producing it can cost a fortune, then you have to have big money to market the album, and then youi have to have some strong willed people championing it. Most folks say it costs about a million dollars to push a song to the top of the charts through the label system.... there are ways around this, but luck plays a larger role.I will never see that kind of budget for one of my songs from one of my albums...maybe if John Mayer covered me, however, or Sugarland or Courtney Love or Click Five. Getting covered by a commercial artist would work and isn't out of the realm of possibility...The other way is to have a song in a movie or on a tv show that breaks you nationally to a broader audience. The Rembrandts were completely off the public radar screens when they wrote the theme song to the tv show "Friends". When the show became a hit, the added a second verse, recorded a video with the cast playing as a band members, and voila, they had an instant hit. It helped that the song was catchy and someone at the show, a producer maybe, was a fan and asked them to write the song for the show. That's the champion every song needs.When I had "The World Ain't Slowing Down" in Me, Myself, and Irene the Farrely Brothers did everything they could to make the song pop out of the movie. They put it in the song four times. They wanted to give it that kind of exposure. And it really did help bring in a new audeince, a wider audience, and I am still getting e-mails world wide because of it. Lisa Loeb had a hit called "stay" in Reality Bites that jumped from the movies to the radio to a big label deal to the top of the pop charts... Her champion was the guy that lived a cross the hall from in NY, Ethan Hawke, who got her song in the soundtrack.
The Farrely Brothers were my champions, Ethan Hawke was hers...The song has to find a champion, and so it must really hit people that hear it in such a way that they react strongly, and spread it around. Every song has it's own path, it jumps out of my car and someone scoots ahead and creates work for me, rather than me doing all the work for it. Conversation with a Ghost was this way. It helped to break me in Boston. I've had a few others, Sweet Mistakes got in a sound track, If You Break Down got into the tv show Ed in a beautiful way. Angel in Manhatten got a lot of attention because it seemed to somehow to be related to the healing process after 9-11. Stations played it all over the country. These kind of things are unplanned, I never write a song to be a hit, I just try to capture the moment the song is framing. But I am statring to recognize that some songs have ideas of their own.. legs of their own, paths of their own.I believe the new album has some f these songs as well, maybe more ever before. Jukebox on my Grave, Home,
Take All the Sky You Need, and She Was seem like they have some legs... but we'll see. They have their own timing too...I just found out that someone at NBC discovered Beautiful World from the album Sweet Mistakes and they are considering for an ad for a mini-series in January. We'll see.
I love that these things happen for my songs without a big label, or big money... It's like watching your kids go off to college or careers to make something of themselves...looking forward to the next months shows in the midwest, Chicago, DC, Colorado...Thanks for everything, y'all..
Ellis

Sep 7 2005 - Hurricane Katrina
Thursday, May 3, 2007
Posted: Sep 07, 2005 10:09:08 am September 7th, 2005
CharlottesvilleHey y'all...
I've been watching the heart breaking footage from
Louisiana, Mississippi, and Alabama, and my thoughts go out to all of the victims of Katrina and to those of you with family and friends there. I am traveling to Houston and Dallas in a week and will be donating proceeds from those shows directly to Hurricane relief.I have only performed in New Orleans a few times, and visited there last about four years ago. One of my favorite times there was on Halloween about ten years ago... New Orleans is the best place to be on that night. A cable car went by me in the darkness with it's internal lights on, and I could see Dracula and Ghosts and Football players and Mummies riding around in there. I wish I had a camera for that moment.Culturally it is one of our most important cities. It seems to have survived the centuries with a unique personality of French, Spanish, African, and American influences. How it is put back together remains to be seen, but I am hopeful that the soul of the town will remain intact.I'm sure you all of stories of New Orleans in your life and hold those times close.Let's pray for a safe remainder of the hurricane season.See you out there!
Ellis
Patti

Posts: 124
Registered:
2003-10-20
Posted: Sep 07, 2005 8:50:14 pm For the last few days I haven't been able to get your song Dream Of New Orleans out of my head. I had to put in the CD and re-read the lyrics from your book...That song always made me feel like New Orleans was a magical place indeed.How kind of you to make such a generous donation...have a safe tour.Patti
renee

Posts: 51
Registered:
2003-10-21
Posted: Sep 08, 2005 9:37:56 am New Orleans is definitely a unique place. I was their several years ago on Labor Day with a friend. I remember it being the hottest and wettest city I'd ever been to, and I was living in Texas at the time. My friend and i stopped in at the desk of our hotel and asked what exciting things were happening that weekend. The clerk told us it was the Southern Decadence festival. We were excited about that, until he told us it was the largest Gay festival in the country, but being liberals we were still excited. We toured the French Quarter all afternoon and we kept thinking we would see this big roving party but we kept turning empty corners. Finally at one intersection we were stopped by a woman on roller skates who was naked except for a baby blue feather boa and her body was painted baby blue. She was kinda of like a French Quarter traffic cop. Once we meandered down streets where we left her, we came upon a sea of men. Literally. There must have been like 500-1000 men maybe more in this 4 block area. There were men in thongs, men in heels, mostly though without much on at all. But, despite having to wade through this ocean of chests and beads and paraphenalia, it was in interesting time. And New Orleans is one of the friendliest and colorful cities in the world.
god bless 'em
peace
Knoxsdad

Posts: 23
Registered:
2004-06-28
Posted: Oct 26, 2005 11:57:56 pm Hey Ellis -
We certainly did watch a ton of Katrina news here at home.
Question for you, last summer when we made the trek to your villa up north for that great outdoor concert one of your family members mentioned that they had come up from NOLA. Not sure if it was your brother in law or brother.
This stuck with Knox and he has been so concerned about your family members and wants to know that they are safe!
Every time we watch something about Katrina Knox asks if we think that your family is safe. I told him that we would ask you the next time we see you. (most likely not until Feb in Marblehead)
So do you or did you have family down there and are they alright?
You can leave a message here or email me direct at
peterlendall@cs.com .
Knox says hi and we look forward to seeing you early next year!
All the best from the Lendall clan.......
Knox's dad (Peter)BTW, Knox will be bringing his guitar and is ready to play along with you!
Knox's dad
ellispaul

Posts: 38
Registered:
2003-11-10
Posted: Oct 29, 2005 3:33:50 pm Hey... I don't have relatives in Louisiana or Mississippi.. though I do have them in Texas, Colorado, Florida, Arizona, Maine...thanks for checking in..
Ellis
Sep 23 2005 - AVALON NATURALIST FOLKFEST
Thursday, May 3, 2007
Posted: Sep 23, 2005 4:15:06 pm Also known as nudist colony but don't mention that to them, they prefer "naturalist" (or is it "naturist") to nudists. This means they aren't looking at wildflowers, unless one is tatood to your ass somewhere.The gig was in Paw Paw, WV and my agent told me it was a clothing optional gig and I let him know I wasn't interested in building my audience like that.He said there would be around 1,000 people there.Then he told me John Gorka did it.He usually uses John Gorka as a last minute secret weapon to pull my interest towards saying "yes"... So a month later I found myself driving into the wilderness of West Virginia and pulling into the Avalon residence area. This is a full time "naturist" community, they live in condos in a beautiful setting and have events over the summer that draw other naturists from around the country.The woman came around her bench in a t-shirt and I was relieved until I realized she was bottomless and approaching my rolled down window. Now, I have nothing against nudity, accept in this case, my face... Even public nudity is really okay with me, but it still is a shocking thing to behold when you first bump into it. She checked me in. I checked her out. Once you get through the first person, things seem to go pretty smoothly...Sure enough everyone was naked and my tour guide Bob
swung in the wind as he walked me through the facility in the buff. Fortunately, I did have friends there! Suprisingly some Kerrville Folk Festival people were there and they were wearing clothes! There were 6 of us total in clothing, and they were all acquaintences of mine. I watched the afternoon of shows, watched a man dancing wildly in the front row to a klezmer band. A few of the musicians were naked, but most stayed clothed. The crowd was mostly middle aged and wasn't exactly the crowd you fantasize about seeing in the nude... The playboy mansion should host next years run..Hugh Hefner presents THE SILICON FOLK FESTIVALnice ring to that...When my turn came up to perform, I was nervous about how I would go over. It would have been more successful maybe to be naked, to be one of the clan. I was hoping the front guy wouldn't dance for me.I hoped there'd be NO dancing.Certainly no one was going to be throwing panties on stage. No one was wearing panties.I have heard that if you are nervous before a crowd, you should picture them without clothing and that will make you feel somehow at an advantage socially. But when the reality is that you are playing in front of several hundred naked people, you find the advantage is lost entirely.talk about peer pressure.Or is that pener pressure?I ended up picturing them all in clothing.Layers and Layers of clothing. Parkas, mittens, long underwear. Hats, gloves, burkas...My friend Pat Wichter sat and played slide with me (in clothes) and helped the energy on stage. We ripped through several of my songs and the crowd seemed to enjoy it! They were a really friendly bunch of people, just like any other crowd, but these people knew their way around a hot tub...It was actually, really enjoyable. They treated me with kindness and respect, even though I chose to stay forever in bluejeans...It happens every year in Paw Paw, WV... you might catch John Gorka there next year... who knows?Ellis
KarenZ

Posts: 644
Registered:
2003-10-13
Posted: Sep 24, 2005 7:25:48 am Was there a standing ovation?KarenZ
"Back in school I found the only written truths in bathroom stalls and telephone booths" -- Ellis Paul
Patti

Posts: 124
Registered:
2003-10-20
Posted: Sep 24, 2005 8:14:41 am I'm just waiting to hear what kind of song comes from an experience like this!!!
Patti
barb62

Posts: 28
Registered:
2004-07-22
Posted: Sep 24, 2005 12:54:49 pm Hey Ellis, I bet you didn't go down into the audience at this appearance like you normally do. Hopefully noone asked you to autograph one of their body parts - ha haDon't know if I could have kept a straight facebarb62
May 3 2007 - American Jukebox Fables
Thursday, May 3, 2007
Posted: Mar 29, 2005 1:47:50 pm I packed my car with the remnants of old instruments I had hoarded in my
Maine home, closed the door and left the key under the mat for the new owners. Thecar and I rolled out onto the highway to start an album project in Boston
with Martin Crotty, better known in these parts as Flynn.He laughed as I entered his house with two guitars, a banjo, a mandolin, and
an accordian-- but we had made promises. I was here to combine our two musical
worlds and create something different for me, a hybrid of pop/rock/randb/hip
hop/techno/country/folk a mishmash of American music and American life called
"American Jukebox Fables"...The album is a mish mash of references-- people, places, things... soldiers,
jukeboxes, churches, pickups, graveyards, Alaska, Hollywood, Iowa, bars, mason
jars, motels, seven elevens, Elvis, crime sprees, Marc Chagall, papermills,
highways, cars, cornfields, Jack Kerouac, Buddy Holly, trains, route 66, the
Rockies, Pat Tillman, Lenny Bruce, CNN, oilmen, sunflowers, whiskey, smoke
stacks, the Red sox,
Hank Williams... etc.....A quick trip through...Black Top Train
is about the birth of the westerward American highway and the automobile and
the free flowing western roadtripping Jack kerouac rand mcnally freedom
circus...Kiss the Sun
was inspired by a soldier who is a follower of my music and his experiences,
and outlook... it's about freedom of speech and speaking your mind, so i used
Lenny Bruce and Martin Luther King coming to bat in the same fight...Take all the Sky You Need
escape from the small town let your love go freedom needs a highway...followerTime
reconnection forgiveness time gone like a bird that can't be cagedGoodbye Hollywood
change and pack up the bags and trinkets and go find a nitch the feels right
when you know you are somewhere that doesn't...Marc Chagall
painter of hopeful blues against a world of browns, every time I see one of
his paintings it's like love on a canvas, that there's hope inside a dark worldJukebox on my Grave
a love song to music and musiciansHome
a love song to a home and a womanAlice Champagne Palace
an attempt at capturing the magic of Homer, Alaska where freewheeling
characters gather to redefine there livesShe Was
someone trying to convince themselves that a woman ain't worth itBad, Bad Blood
a crime spree in a tv setMystified
a compliment is deniedClarity
a woman's journey to find her birth fatherI hope y'all enjoy it!
Ellis Quesita1
Posts: 1
Registered:
2005-03-30
Posted: Mar 30, 2005 10:51:29 pm I am completely stoked about the new release. I'll be banging down the doors at Woody's in Rock Hill on Tuesday morning! soulcarver
Posts: 5
Registered:
2003-12-29
Posted: Apr 06, 2005 12:47:56 pm Congrats Ellis! A fine achievement and advancement of your craft! Ever searching, ever evolving, ever working to pour your connectedness into accessible, thought provoking, soul tickling lyrics and music. Your gift to all of us as fans and admirers is something we should cherish deeply.Say what they may- dyed in the wool traditionalists, critics, fans... whomever. You have a winner on your hands! Quite frankly I hope you do bust open a whole new demographic or two! I hope to hear you a little more often on the radio. I most of all hope you are blessed with the abundance you deserve and not just the money because I know that will be well spent but also the recognition because I know you will reinvest that energy in more gifts of word and melody.Sell out schmell out- keep rockin', rappin', folkin', popin'- whatever moves you to move us. Can't wait to see you at The Somerville Saturday- It is going to be a very special night for you. I pray it is a commencement at which you are granted with your doctorate of troubador arts and an exciting and evolving new fan base... I really think it is about to happen for you... and for all of us who care about you and watched, listened and supported you. Kind of a potentially weird time for those who "knew you when" but like a good friend or loved one we need to give YOU the chance to "Take All The Sky You Need"! I truly hope this is a big hit for you!
Much peace
HS halfcentury
Posts: 2
Registered:
2005-03-24
Posted: Apr 07, 2005 6:39:10 pm Fables do leave us with a lesson to learn. A fine composition of words and music. I'll leave the lessons to the listeners!
Marc Chagall- yes, floating hope. I unknowingly went into an old chapel in Chichester, England to feel some spiritual history and was humbled as well as inspired to see Long windows filled with mostly red stain glass Marc Chagall creations. Love is definitely all we need.
Keep painting our world with your words and music.
gunmanx
Posts: 1
Registered:
2005-04-20
Posted: Apr 20, 2005 9:13:50 pm Ellis,The musical side of me:My wife and I have been fans of yours for a long time. We really enjoy your music. While the other songs are good, the first two songs on American Jukebox Fables are great!The patriotic side of me:With your song, "Kiss the Sun", you are correct in saying that Pat Tillman was a hero. However, I don't see how you can be confused on what he died for. Pat clearly fought and died in Afghanistan which was not an oil war by any means. He fought bravely to protect us from our enemies to fight them on their ground, to persuade them from attacking the US again, not for oil. I think if he could hear the end of this song, he would be rolling in his grave with disapointment. Remember, that freedom is something that we all have to fight for even though it does not seem right sometimes. You are a good American, I know, I have met you before when you played at Eddie's Attic. Please think about what I have said. I know you have an open mind. If I mis-understood the song, maybe you could explain it to me better over a beer at Eddie's attic.
KarenZ
Posts: 644
Registered:
2003-10-13
Posted: Apr 21, 2005 1:20:41 pm Gunmanx,The "sentinel" in the last verse is the one who says he's fighting an oilman's war....and he's questioning whether that's what Pat Tillman died for. I mean, he's simply questioning it. It's already been established that Pat Tillman "came for justice, not for greed, not for ego". And "his truth came through the fog like the home team's marching band". A beautiful thought...a beautiful tribute to his laying down his life for freedom.My 2 cents worth.KarenZ
"Back in school I found the only written truths in bathroom stalls and telephone booths" -- Ellis Paul
richard jela
Posts: 24
Registered:
2005-01-03
Posted: Apr 22, 2005 11:06:58 am I understand the song to be about both Pat Tillman and a US soldier, a prison guard serving at Abu Gharaib Jail (who is an Ellis fan and wrote to him from Iraq) so the sentinel in the final verse is the prison guard, who considers that he's fighting an oilman's war.............
Jela
Richard Jela
theshazz
Posts: 1
Registered:
2005-04-30
Posted: Apr 30, 2005 12:45:21 pm This is back to the orginal post a bit... I bought the new CD a little bit ago, and love it. Had a couple other albums and always they blow me away. I'm a lyrics girl, and I've not yet been disappointed. Thanks. Good music makes the world go around.Then! I realized you were playing here in PDX within a week. Long story short, I'd bought tickets for a show in Boston with a friend to celebrate his birthday a few years ago. I got very very sick in the end of 2002 and had to go to the hospital and didn't get to see the concert. Although, I tried to delay going as long as possible because I was so excited... Instead certain songs became the soundtrack to recovery, and I began to write poetry again.So then it was last night and there I was in the Clinton St. Theater. Really, it rocked my socks off! Came home needing some place to send fan mail. :-) It was great to finally see a show. And I love the new music. Thanks again for creating this... cookingsue
Posts: 1
Registered:
2005-05-01
Posted: May 01, 2005 12:31:50 am My husband and I just returned home from seeing Ellis at the Tractor Tavern in Seattle. This was only our second Ellis concert and he was once again fabulous!!! He performed many of the songs from his new cd, American Jukebox Fables, which we immediately loved. The cd is playing in the backgroud as I write this. Thank you, Ellis, for another terrific concert and for your evocative and beautiful songs.
Edited by cookingsue on: May 01, 2005 12:33:35 am
Cooking Sue
DontheBard
Posts: 1
Registered:
2005-05-17
Posted: May 17, 2005 1:37:25 am Ellis,
I first discovered your music with the CD "The Speed of Trees." I thought that CD was a great one. But you've outdone yourself with this "American Jukebox Fables." Every song is a real gem, the perfect match of a great voice with great songs. I love all the songs. It is hard to pick just one or two. Thanks again for a great CD.Just a note to call your attention to another great artist. Dougie Maclean from Scotland. His CD "Tribute" with the songs of Robert Burns, Neil Gow and Robert Tannahill is a favorite of mine.Don from Bardsville
Don from Bardsville
wendy
Posts: 94
Registered:
2003-10-21
Posted: May 17, 2005 6:51:21 am Thanks for the reminder, Don!
Dougie McLean is a long-time favorite, as is the work of R.Burns. I'll have to track down that CD.
Have you heard his Andy M. Stewart do Burns? Spectacular! I can't wait to hear Dougie's take on them. (and he'll even be in Maine this September!)
•wendy
truepeacenik
Posts: 4
Registered:
2005-08-24
Posted: Aug 24, 2005 6:47:14 pm Kiss the sun and a day's work...
"First post from a long-time listener..."Ellis & company
I had the opportunity to write an article about a Green Beret from the community I cover who died in Afghanistan two weeks ago.
I was on the phone with his father, listening to a man thousands of miles from his home as well (settling the younger brother into college) wail into a cell phone. Blubbering: he'd lost everything, he said.
He called his son, barely of age to drink, a hero.I am solidly against war in concept, and there I was, writing the story of a kid who loved GI Joes and a dad who never saved a penny toward college for this son. A story of another senseless death.
I was out of sorts and really not functioning after writing the piece. So I left work early.
I started the car, hit play on the CD player and Kiss the Sun came on.
I cried. Pull-over-to-the-side-of-the-road cried.
I'd listened many times and been shaken with the song all on its own. Add to this the raw feeling I'd filtered to paper, and I was just blown away.Ellis, your stories hit nerves almost every time. I admire you for that.See you in Colorado
Robyn
(from University of Oklahoma and Blue Door)
If they aren't playing live music, don't go.
Nov 11 2003 - The discussion code is finally broken (The Vance & Ellis Circus)
Thursday, May 3, 2007
Posted: Nov 11, 2003 4:08:54 pm Hey y'all--
I have been enjoying traveling in the Vance and Ellis Circus
Wild West Show... We weaved through the dusty highways of Texas and Oklahoma and had a great time over the weekend at the Blue Door, The Mucky Duck, Jefferson Freedom Cafe and the Cactus Cafe... wish we had another week down there... there is something about playing to folks down there, they are a wee bit rowdier than in other parts of the country...I am in Maine working on new songs, one of which Karen posted as "I got nine months to fix the World" written after a conversation with new poppa Kristian Bush down in Georgia... I wrote that one for him, it feels like a Woody Guthrie song and I like that too. I guess all thosae Woody shows last year have inflicted a bit of dust bowl ballad into my brain... I am about to dive into writing for a new album that hopefully will arrive next fall if all goes well according to the folk gods...I have a cookie problem with my laptop, which is getting solved-- so I will be arriving here more often in the next few weeks! Take care till next time--
Thanks for coming out to the shows!
Ellis KarenZ
Posts: 644
Registered:
2003-10-13
Posted: Nov 11, 2003 7:51:23 pm Ellis,Do you know if the 'folk gods' are related to the 'folk broads'? Oh wait....I think it's Vance I have to ask.....
Karen
"Back in school I found the only written truths in bathroom stalls and telephone booths" -- Ellis Paul
Becky
Posts: 67
Registered:
2003-10-20
Posted: Nov 14, 2003 10:37:33 am Ellis, I'll be praying to the folk gods for that new album! You've got some great new songs that need a home on a cd. I, too, absolutely love "She Was." I remember hearing it for the first time in Lubbock....I had an old college friend with me who was hearing you for the first time. I had told her about your poetry and songs and how they were so meaningful and profound. And then you started talking about this song and how this line came into your head..."she ain't worth the whiskey..." Well, it didn't sound like it was going to be an Ellis song, but then when you started singing, well, it was, it was...in truth you knew it was (I'm sorry! my fingers just started typing that). It's beautiful and haunting and I love it....
I swear I don't think there's a song of yours I don't like...
Becky"Life is always and never the same." Ellis Paul
KarenZ
Posts: 644
Registered:
2003-10-13
Posted: Feb 04, 2004 7:28:56 am Ellis, you been working up any old songs like you promised?Karen
"Back in school I found the only written truths in bathroom stalls and telephone booths" -- Ellis Paul
Rahsee
Posts: 1
Registered:
2003-12-10
Posted: Feb 07, 2004 10:44:58 pm I just have to say that the concert at Merrimack College on Friday (Feb. 6) was FABULOUS! I saw Ellis and Vance in Nov. and was blown away. I knew that I had to traverse once again to see the Indigo Boys. The acapella version of "Citizens of the World" was so moving! Thank you so much, Ellis! locolorenzo22
Posts: 1
Registered:
2003-11-08
Posted: Jul 06, 2004 11:55:13 am Hey, I've got to say this to you Ellis. Your music is so inspirational, and whenever I hear it, I start to feel the old familiar urge to write. I finally did start writing my poetry while listening to "All is Well" and "Trolleycar Trail". Without your songs, I never would have submitted my poem and become a finalist in this year's Chicago Gwendolyn Brooks Open Mic poetry awards. I've gotta say, keep it up!!
the crazy man- Lorenzo in spanish
kym
Posts: 19
Registered:
2004-05-17
Posted: Jul 13, 2004 1:37:37 pm locolorenzo22!Congratulations! That is so cool...Ellis is indeed a wise and inspiring writer. halfcentury
Posts: 2
Registered:
2005-03-24
Posted: Mar 24, 2005 5:55:44 pm I'm a farely newcomer to your words, Ellis but have been especially touched by your imagery around time, dreams, joourneys. The Chris McCandless song -now having gotten 3/4 way through the biography done on him- inspires me to share with you a recent one week mission trip I experienced in the Dominican Republic. Talk about being "wide awake in a dream". It was all about the journey and there was NO sense of time. The people and children of the town where I stayed ministered to me. I breathed in the dirt and the smoke while holding the little hands, crackling the weeds by the river, walking up to the mountain top, praying togehter in the homes. The moon brightened the night into day erasing time. Thankyou for your words- I am reminded they are more than a mere mumbling in my mind- thankyou for the music that brings the words alive. RyanB
Posts: 3
Registered:
2005-05-26
Posted: May 26, 2005 6:59:46 pm
her soul's covered in blisters
she screams out in whispers
saying "we're too close to home to be this alone"her pain is totally hers
to her its completely real
she makes believe that her faith is gone
and that its harder and harder to feel
in the mirror she sees nothing but a middle child
she cries alone in her own wild stlye
wipes her tears and sleeps with all her fears
shes afreaid to crack a smile
to the world she's just a statistic in the newsshe's broken down
she placed the world upon her shoulders
she never scraped the surface
and she drowns her emotions in a cheap bottle of beer
just another passing year
the world is passing her with ease
she always tried to please
always dreamed of Greece
but she's afraid of flyinshe screams "Whats the use in trying, love never seemed to stick here"
fear of loosing trust
never gave a fuss
when the boys would never stare
not even a side-eyed glare
i guess the world's not fairbut you'll never hear her wining,
shes busy making money
trying to be funny
dreams of leaving tis city
maybe then she'll show them allthat she is not just a passerby
not just a lucid dreamer
not living a lie
that she's got a future
why didnt they notice that she diedshe was just a passerby
she lost her guide
just nother lonely girl
with her shiniing guy
did any body care
all they ever did was stare
but she's laughing up in heaven
saying "karma's gonna get 'em"
maybe then they'll care
for the girl who died
until then they'll keep on passing by
i saw a show of ellis' and it made me a convert from the first time the first string was plucked......his music and words give me....like how i feel of van morrison's work... it gives me a passion to see the world, write the world, draw the world.....capture the world.......michael collins never lied!!!!
Edited by RyanB on: May 26, 2005 8:36:05 pm
Edited by RyanB on: Jul 20, 2005 1:33:31 am
ryan...forever trying to see people deeply as a soul can go"Did I tell you then?
These are moments whole lifetimes are built on."
Intelligent Design or a bad idea?
Thursday, May 3, 2007
Last night, deep in the bliss of a blue sky dream, the booming voice of God awoke me to the darkness.

PAUL!! WAKE UP, MAN!

(God never calls me by my stage name.)

I AM TROUBLED, AND WE NEED TO TALK!

"What have I done now? I said. (I usually keep myself fairly busy with troubles and guilts and trip-ups of my karmic destiny.)"

IT IS NOT YOU THIS TIME.

Well. You can imagine my relief.

"God," said I, "I am a little confused. Now if you don't mind providing me with some clarity. I'm a little sleep groggy-- Did you say you were troubled? What are you troubled about, and why on earth would you bother to tell me?"

I AM TELLING EVERYONE. BUT SOME PEOPLE DON'T LISTEN. I NEED TO GET SOME ANSWERS FROM YOU.

"Well" I said. "Usually this relationship is the other way around. I feel like I'm plenty qualified to ask a number questions myself, and now that I got you on the line maybe a minute or two could be spent asking about, well... I got a few of 'em-- but I don't know if I am qualified to answ--"

QUIET! YOU ARE QUALIFIED.. YOU ARE HUMAN. THAT IS THE ONLY QUALIFICATION NEEDED. I DO NOT UNDERSTAND YOUR SPECIES. I CREATED YOU IN MY OWN IMAGE. BUT YOU CONTINUE TO FAIL MY HOPES OF YOU.

"Well I've got to agree with you there, sir. I mean. having never seen your image, I can only imagine. But in my mind I suppose that we are somewhat falling short right there in that category sir. Yup, You probably got plenty of reasons to be troubled right there."

I HAVE A PROBLEM WITH WHAT I AM HEARING FROM KANSAS AND GEORGIA AND OTHER PARTS OF YOUR WORLD.

"Well sir, I have traveled many times, with suitcases, stamps, and umbrellas, to those places and I can attest to some beautiful sounds there sir-- and some sights as well.... and smells and tastes and other things ...There is that peach water tank in Georgia near the South Carolina line, now some say, that is a source of state pride, but now to me, that looks like a big fat peach colored butt, but as they say, one man's art is another man's ah... butt... I guess.... and Kansas has all kinds of charm-- there's a big ball of twine in Kansas and sunflower fields yellowing the horizon as far as an eye can stretch... and the sounds in those places-- Ray Charles sings with all sorts of inspired notes about Georgia, and now resides in Heaven, I'm guessing he is causing a beautiful ruckus in those parts of your kingdom and hell, oh... excuse the term sir, just a slip there, Kansas helped inspire the Wizard of Oz not to mention the world's greatest ball of twine, and has some incredible sunsets and thunderstorms and cyclones..."

I GAVE YOU PEOPLE A BRAIN IN WHICH TO EVOLVE, TO STRETCH THE LIMITS OF YOUR PERCEPTION AND UNDERSTANDING OF THE WORLD IN WHICH YOU LIVE. WITH EACH INSIGHT FORWARD YOU SHOULD GAIN GREATER ACCESS INTO THE DIVINE NATURE OF THE UNIVERSE. BUT INSTEAD YOU FAIL ME. YOUR SCHOOL BOARDS ENFORCE UPON YOUR CHILDREN THIS MAN-MADE CONCEPT CALLED "INTELLIGENT DESIGN". WHY DO YOU NOT SEE THE STRENGTH OF YOUR OWN SCIENTIFIC INSIGHTS?

"God. You got me there sir, That is a stumper.. If ever there were two worse words to describe the nature of this ol' species of human, "INTELLIGENT DESIGN" ... I couldn't come up with them. Geez, I would go so far as saying that no human being that was intelligently designed would come up with the term itself. Or "war". Or "prejudice". Or "Walmart" for that matter. But I am thankful that Garth Brooks has a place to sell that new cd box set of his. "

"Well, I personally always thought that the assembly line of evolution was sort of a smart design in of itself, a way of upgrading and tweeking like they do at Microsoft so to speak.
Homosapiens System '05, Cro Magnon System 9.0 ....seems like the better model survives each generation... didn't you create that? Why can't they give you credit for that. That was a good one."

IT DOESN'T LINE UP WITH "GENESIS".

"Well, I gotta say, picturing Adam and Eve as cavemen/monkeys spoils the cinematography a wee bit in my mind. But with makeup. Some lighting. Speilberg could pull it off... We could get the cast from "Planet of the Apes" and just kick out Charlton Heston and Nova."

HE DID MAKE FOR A GOOD MOSES. BE WE`ARE OFF TRACK... BACK TO MY QUESTION.


"Why doesn't mankind just let go of the literal interpretation of "Genesis". Snakes talking, Apples giving knowledge. The rib thing. "

"I mean, no offence here Lord, but I've had a hard time buying it. Even when I was eight in Sunday school. In fact, when I figured out Santa Claus wasn't real-- I began to question just about everything adults over eighteen ever told me. Genesis seems to stretch the bounds of reasonable conceivability a bit. A universe in seven days.... I mean you're fast. And no offense, but when was the last miracle like that?"


WELL, THERE WAS THE BOSTON RED SOX, 2004.

"You got me there. And thank you for that one. There are a whole lot of reasons for me to believe in you, but I look at my daughter and that's all I need. But some people want to restrict how the rest of us perceive you. They want to control our journey to you by digging a tunnel according to their version of the road map. The tunnel restricts free thinking, free perceptions, self discovery,science, creative human insight."

"The fact that we evolve from apes doesn't make me doubt your existence. It makes me doubt the story of Adam and Eve."

THEY FEAR YOU MAY BEGIN TO DOUBT EVERYTHING AS WELL. THE TWO EMUS ON THE ARK. THE PLAGUE OF FROGS. JESUS WALKING ON WATER.

"Well, no offence. I don't know how to say this, Lord, and I apologize ahead of speaking it. But I do doubt those things. I mean, isn't the purpose of faith to bridge that very gap of doubt?It takes a leap in faith to think Jesus walked on water or rose from the dead after a few days, because any reasonable person would doubt it could happen. And just because doubts rise from Bible stories doesn't mean I doubt your existence. Or doubt the moral of the story. I just doubt some of the details. I doubt a lot of things. I doubt you are talking to me now."

BUT THIS MY VOICE.

"Well. This is a creation of your voice through my imagination. I do believe you created my imagination. And the imaginations of everyone everywhere. And therefore you helped to create this blog and the internet it exists in. So, in all honesty, I will try my besy to give you justice. Just as the creative minds who were writing the Bible tried to give you justice. Just as the people who are trying to push "Intelligent Design" are trying to give you justice. Boy... it's getting crowed in the "let's represent the real God party." Everybody's got their own agenda.

WHO IS RIGHT?

Well. That's the question, God. And that's why we have to protect the individial's right to find their own path to you. And that's why we must keep the church version of the universe in church schools and to give our chldren in public schools the tools to cut their own path to you..."I COULD SEND PLAGUES TO THE SCHOOL DISTRICTS...

"Please don't... let's hope evolution itself will keep these people's genes from "dvancing into our next generation..."


MAy 3 2007 - A Night in Salida, CO
Thursday, May 3, 2007
The little town of Salida, CO sits on the western ridge of the Rockies, and has collected potters and painters and skiers and
tourists and folksingers to it's window-shop sidewalks. The shop windows were truly captivating, though some of the
stores were closed for reasons known only to the owners themselves, (karmic vacations pop up on everybody's calendar here. When weather permits all the buddha-shop owners disappear into the mountains to celebrate their good deeds. It seems like everyone in town has good karma lately). I like the craft shops here. They are different from the typical east coast tourist traps-- they have a home spun quality that retains a local flavor. Not much in the way of imported mass produced quaintness here.There is a little place in Salida called "Balloonatics" that artully converts lightbulbs into miniature replicas of those Sante Fe
styled colorful hot-air balloons. Their window was loaded with a sky full of them. A Christmas shop, a few doors down, offered a never ending supply of blinking, bell ringing, merry wee town buildings and knick-knacks. Skaters and skiers and trains run through the little replica towns. There is a replica of Salida in the back room.It seems like you can create these kinds of businesses and just about make ends meet in a place like Salida-- Housing is affordable and the views are priceless. It's the kind of place I dream about settling down in when the grayer hairs have taken hold of my head. I had the pleasure of performing last night in their community opera house, The Steam Plant Theater. A cast of local characters came out in rowdy droves. I was wined and dined and mined for information at a pre-show reception at a great local bar/restaurant called "Dakota's." The after show gathering meandered to a bar named "Benson's" and we drank a few local Colorado brews. I heard gossip and tall tales about the town. At midnight, I began to fade.I staggered home to the "Gazebo", a local Band B in
the mountain town, and fell asleep in a brass bed with a smile on my face and a potpourri bouquet smelling up the room and whisping into my dreams.My dream was so vivid-- I had bought a little home in town. I think I need to live here. I woke up in a sweaty kind of demented Martha Stewart euphoria.Overnight at the B and B, beneath cotton window dressings and quilty puffy sheets, I designed and manufactured my very
own cloning apparatus. I used card stock torn from Martha Stewart's "Living" magazine, duct tape I had absconded with
at Benson's, and lip balm from a local hiking gear shop. I cloned the house cat first. The hind leg on the first copy came out in an impossibly wrong place, but with a couple of slight adjustments, the leg on the next few cats had drifted back to it's appropriate position. Tinkerbell became Tinkerbells.I was ready to give myself a run through. The apparatus is essentially a box, multi-colored and three feet high. You crawl through it, and the clone follows. Brilliantly simple.

I discovered the best time to make a clone of yourself is not at a moment of questionable sobriety. The first clone came crawling
out, happily slurring and spitting speeches, mocking the countrified decorations, singing ABBA songs at the top of his lungs-- he woke up the talking clock next door--
"Shut up in there! It's three o'clock in the morning!!"I took him in my car down to Benson's and left him dancing with a whirl of a mountain lion named Lawton Carson. Back at the B and B, I started in on mass production. Lining up three cloning devices in a row, the clones and the clones
themselves became cloned until there was a parade of clones-- the little Band B was spilling over with Ellis Pauls. A choir of me's.
Three hundred tenors. (And you thought three could make some noise)I had to shut down the plant momentarily. Too much of even one of me is too much. I handed out written instructions with a sharpie on coffee napkins to each of me. #1 was to go to Big Sur, CA and rent a hut on the cliffs. Paint. Drink espresso. Write novels. Fall in love with waitresses.#2 was sent to Charlottesville, VA, to change diapers. Pay bills. Kiss wife. Hike. Read books.I sent one to get a PhD in American History beneath the ivy steeples of Harvard University. I told him to lie on the
application about his elementary school grades. The "F's" in science were purely typoes... I told him to play at Club Passim every Friday night. Drink coffee till 6, then switch to ale.Three are in Paris. Smoking hashish. Reciting poetry. Drinking pinot noir. Doing Jerry Lewis imitations.#145 was sent out as a plumber to work inside the White House. To plug some leaks. Flush some policies. To wrench some
heads.I sent one to Nashville, TN with a cowboy hat and and a book of song lyrics taken from dirty British lymrics. He was to infilltrate the Grand Ole Opry, and yodel some. I told him to verify, in whatever way possible, the truth about the authenticity of Dolly Parton's assets. (photos if possible.)#205 is working in New Orleans. Rebuilding houses. Passing out clean water. Playing dixie land songs on a banjo for relief
workers. Playing poker in mardi gras beads. Smoking cigars in the French Quarter. Flashing the police officers. Avoiding brothels.I sent #245 with peace signs painted in yellow and black to Crawford, TX. To slow the traffic and offend the neighbors.I sent one to Moscow. One is off on the space shuttle. Three are flying to Japan. (I'm big in Japan).One is in Iraq busking in Baghdad. Singing "Imagine" in Islam.And me. I am here in Salida, living in a little brick B and B, selling tickets to the Steam Plant Theater for the next week's
John Hammond show. He's playing Friday night and he was nominated for a grammy! It's almost sold out! Only a few seats are left! Come on down and ski for the weekend, take in some music! You gotta try the Baklava at Dakota's. We got some beds at the Gazebo. Come on down! You'll love this town....see you soon,
Ellis
ps. (After a few days... a trickle and then a flood of several hundred homesick me's appeared in Charlottesville and were fist fighting over the rights to change Ella's poopy diapers.)... happy thanksgiving y'all.... Ellis
May 3 2007 - Ron Mesh's New Year's Sangria Concoction
Thursday, May 3, 2007
Ron Mesh in the flesh
is wee little man
who stands about five foot six
but when midnight strikes,
and the moon is just right,
he grows inches, as each bell ticksSome nights at Casey's Tavern
he'd drink like a horse then he'd shout--
"I'm startin' a fight--
at the stroke of midnight--
I can beat any man without doubt!"Well there are always plenty of takers
to fight a braggert who's only five-six
but when midnight arrived
he was seven foot five
and the skirmish was bloody, but quickNow some skeptics blamed his thyroid
blamed a quirky little throbbing gland
but I blames it on the Sangria
that Ron mixes with his own bare handsIt's made of rum and wine
pumpkin and pine
sugar cane, oranges, lemon
celery sticks, the finest grapes ever picked
cinnamon, curry and melonHis Grandma invented the concoction
(She's now pouring it freely in Heaven)
On the day she died
I swear the coroner cried--
"This woman stands eight foot eleven!"At the Tavern one New Year's by accident
thinking it was cranberry juice
I was dying of thirst
and I finished it first
then my eyes
and my lips they burst looseAnd the steam came a' hissin'
like a freight train whistlin'
from my ears and my body parts
Ron, he was laughing
Like a cow who was calfing
as I struggled to keep down the sparksI soon hit the ceiling
with my head. which is healing
I must've grown eleven feet tall
my clothes started ripping
my voice started dipping
my weezin' was blowin' a squallIt was asked that I leave
with Ron at my sleeve
to find the antidote or some kind of cure-all
a lemon he said
some hair that is red
that sits on a woman who's pure-all
so I searched for a party
with this one man bacardi
to touch him is know the word "buzz"
he'll share it with pleasure
on a couch made of leather
with your mother, your sister, your cuzand this he did
with some frat house kids
who seemed to be all college linemen
they were bigger when we left
I commited no theft
but there was nary a redhead among themBut we found just that girl
a church social pearl
cooking for a Sunday bake sale
If I were to give her a kiss
then suck a lemon like this
I would return to my height without failSo I tried for the kiss
she turned and I missed
she said, "Sir! I'm engaged, to a boxer!"
I had just that hunch
cause he knew where to punch
Like he'd studied my body at OxfordI was out like a light
and to Ron Mesh's delight
I was need of some resuscitation
the red head came through
the lemon did too
and I shrank without hesitationRon's Sangria Chilled
is still getting swilled
on the east and west coast's wee morning's
it's more popular than widgets
amongst all the midgets
who drink with no care for my warnings
Jan 1 2006 - happy new year
Thursday, May 3, 2007
Happy New Year!
Cambridge, MAThe weather is overcast and threatening snow here in the Boston area. The shows are sold out, and the first two are now under our belts-- really enjoyed playing those first couple of shows. People came as far as Germany and England for the shows...two more to go...Don Conoscenti is in from Chicago and Christopher Williams is in from Nashville to play as the band, and tonight's show opener is producer/songwriter Flynn. Surrounded by friends in my spirtual home town again! Can't beat it!It's been a great year, thanks for all the support musically-- I am looking forward to writing a new batch of songs and taking them out on the road and I plan to do request shows with a three ring binder of all my songs next year...long live "Wilbur the Rat!"A Christmas album will definitely come out next year as well.I'm glad to have found new musical inspiration in Antje Duvekot, Sam Baker, and Ray Bonneville.My daughter is making animal noises and doing sign language and memorizing the alphabet... She's one and a half.She starts Harvard next year.Mike Kelly guitars have given me an endorsement deal, and I look forward to building a relationship with people who are making quality affordable instruments...I'm grateful to all the friends and family in my life... thanks to all of you.Have a great night tonight and an even better New Year y'all...
And thanks for coming to the new blog, I will try to post stories and poems and observations even more throughout the year-- please interact with the site-- leave comments, make observations, tell stories, write poems-- drop us a line here and at the discussion board.. I'd like this place to be a receptacle for creative thinking..See you on the road!
Ellis
Jan 9 2006 - In search of the Florida Manatee
Thursday, May 3, 2007
Tampa, FL
January 9th, 2006
A road trip across the palm tree plains of scenic Florida. St. Augustine to Pine Island.
Chasing the shadow of the manatee.
On the west coast of Florida there is a novelist typing daily at the keys by the name of Randy Wayne White. Randy fills pages and pages with Florida based mystery stories. When he writes "the end" and ships the manuscripts out of the tiny post office on Pine Island, they tend to wind their way to the New York Times best seller list. He has a comfortable cabin home that looks out onto the seas that is isolated enough to give him clarity and peace of mind to be creative with little interuptions. Randy is well known in these parts. I think he is the unofficial mayor of Florida. Anywhere in Florida. He's a mystery writer and an entreprenuer and has sliced a piece of Heaven amongst the palm trees and archeological monuments of Pine Island. His property sits aside the ancient home of the Calusa Indians. They had built a small city here that the Spaniards called Tampa. The name migrated north but the mounds remain. Pine Island had anywhere between 3,000-10,000 inhabitants, and was essentially a capital city for all tribes in the area. The Calusa built several mounds across the landscape and on surrounding islands that rise above sea level and allowed them a sacred place for ceremonies, an observation place for defenses and a view of the glorious kingdom they owned. Randy is extremely respectful and awed by the history of the place. He took us on a walk at midnight up to the highest of the mounds-- the place is a state historical and archealogical site and is well maintained and protected.
He and his girlfriend created feasts of ham, greens, star fruits, and wine for our dinners. It was as if the ancient Indian ceremonies needed some kind of twenty-first century updating. His girlfriend Wendy, whom I was happy to discover is an accomplished songwriter, played beautiful piano and sang songs and made us feel awash with comfort. We took their hospitality to the extremes and came back for more at the end of the weekend. It was a weekend of wine and song and much appreciated after the Ringling style circus of our New Year's Eve shows...
Randy took us out to Useppa Island which is a get away for well financed families from all over America and is somewhat remiscent of tiny Martha's Vineyard. This place calls out for R and R Florida style. Orange trees are everywhere. Beautiful bungalow houses line the beaches and a pleasant Casablanca kinda bartender presides over the place and poured us whiskey sours. This would be a great place for a songwriting retreat and we laid the groundwork for that over the weekend. Keep an eye out.
I had three wonderful shows. A private party for the twentieth anniversary of Jay and Lisa in Clearwater, Florida seemed like a cast party for desperate housewives!! I have never seen a crowd enjoy themselves more. I want to thank the dancers, and the screamers . Jay and Lisa's 15 year old kid Joe played for me an extremely good version of "Maria's Beautiful Mess" that was mind blowingly exact. It was like somebody took my hands and put them on his arms. The day before we spun over to St. Augustine for a coffeeshop gig at Cafeleven. It's a great place for dinner too-- thanks for the salmon, guys, and a perfect for delivering what I do..., and the next morning I was the recipient of a helicopter trip from new friends, Mary and Dale. We went over the city and the lighthouse and swampy parks there. The town is the oldest city on America and still retains much of it's European influences. My first helicopter ride ended without hospitalization. The chopper was teeeny. But very cool. And I'm alive. Even cooler.
My friend David Lamotte allowed me to jump onto his Tampa gig at the UU Dome church in Tampa and I really enjoyed sharing the stage with someone who I have known for years...
I also furthered my relationship with Michael Kelly guitars, and picked up a new one at their offices in Clearwater. Be on the lookout for new guitars at future shows!Here's some links for curiousity seekers...
Randy Wayne White's website
Wendy Webbs website
See y'all out there!
EllisRandy, Ellis, Ralph Jaccodine the sun, ocean and fish (not pictured, but there)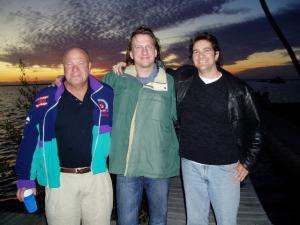 May 3 2007 - Five Straight Nights in Five Straight States
Thursday, May 3, 2007
5 Straight Nights in Five Straight States
I did five straight nights in five straight states
with Don Conoscenti as my guitar date
we laughed too much
and we stayed up late
we did five straight
nights in five straight states
We played Omaha
and it was sixty degrees
it was January brother
we're in shirts with no sleeves
weatherman says he just couldn't believe
that summer came along with a Nebraska breeze
Played a place called Mick's
strumming guitar picks
Don filled up the room with his guitar licks
and we hit the floor wailing
crowd was burning for tricks
they were all lit up like a box of candle wicks
then Kansas City just outta town
At Mountain Music Shoppe shop they make good sounds
they sell banjos there and ammunition rounds
mandolins, flutes and drums to pound
They got a room in back that we filled up, Jack
and we played for two hours with a wall at our backs
and the crowd kept coming but we both held 'em back
with strange improvisation and some social tact
St Louey got itself a Big arch
got some beer making fact'ries
for those who are parched
We stomped through Off Broadway
like a band on a march
it was a damn full house and they clapped as they warched
Beatle Bob, Beatle Bob you just gotta dance
anywhere anytime you get the chance
you wiggle your feet you shake in your pants
your just like Jerry Lewis
who's a hero in france
Now, I didn't mind
you won't see me complain
I know people like you
we breed 'em in Maine
free spirits is all
ya can't keep 'em in chains
but when u dance like that
you might outta refrain
Indy town on my birthday night
we nearly missed the show and died of fright
damn time zone change made the trip kinda tight
(and we'd been gamblin' in Missouri
with the slots and the lights)
but we made it in time with minutes to spare
and I broke three strings on my guitar there
the crowd kept clapping like
they didn't even care
(Might do it again if I got strings to spare...)
Birthday cake and Birthday sings
I'd like to thank all who came
yer like diamond rings
if i had fingers enough i'd fill them things
with all of the people I met on this midwest swing
Louisville angels, down at Rudyard Kipling's
When we started playing, the crowd started sippling
and they blossomed like April
their clappling was crippling
Made us so happy we were doin' back flippling
We stayed up too late, we stayed round too long
our social life nearly broke all the songs
but each show felt like we couldn't do wrong
and I thank you all for clappin' so strong
I did five straight nights in five straight states
with Don Conoscenti as my guitar date
we laughed too much
and we stayed up late
we did five straight
nights in five straight states
Hey y'all--
Thanks for everyone who have come out to the shows in the past couple of weeks. It was a pleasure to play for y'all... more blogs coming in a week or sooo...
Ellis
rhyme practitioner, executioner of the english language, mispeller
of innocent words.
Don and Ellis at Mick's... Photo by Mike-- Mick's owner...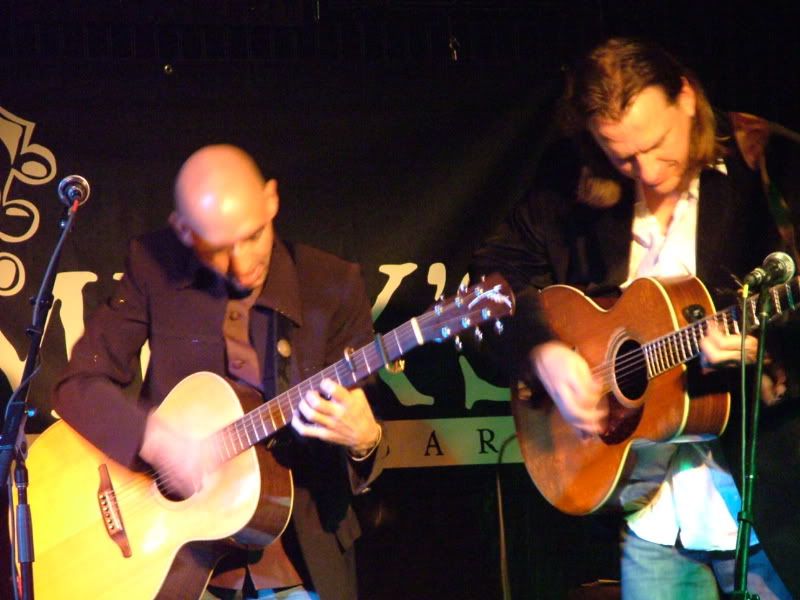 Jan 26 2006 - A new song brewing
Thursday, May 3, 2007
Charlottesvile, VA 1-26-06
A NEW DEMO OF THIS SONG CAN BE HEARD AT THE FOLLOWING LINK
myspace.com/ellispaul
I am on a bluff overlooking Charlottesville at my friend John Clem's place.
Great view of the valley below. I am working on a new song. Sometimes they come and feel completely cathartic to play.
This one has a good feeling about it-- much the same way I felt about the song "Take All the Sky You Need".... it's cathartic and covers a good part of my vocal range--
Look ahead as well to a pod cast either here or at myspace.com.
I will do a version of the song as soon as it is complete.
I am truly enjoying these blogs. Please do leave a note when you visit so I know I am not talking to an empty cyberspace room.
here's the first edited version... more tweeks to come...
WHERE THE RIVER ROLLS
Golden moon
rising in the fields
A scarecrow's highway
a backroad
I'm lost, on empty
hungry for a meal
and the taste of a day not wasted
when I'm down
I let my wheels roll
round
I come running to you
will you
take the wheel
take the wheel
will you
lay your hands so I can feel
where the river rolls
is where the pilgrims go
where the river rolls
is where I want to go
A moth in a porchlight
a curtain
a windowpane
your eyes
thru a screen door
tell me
held in a whisper
you call me by my name
an alibi
a crickets cry
come run with me
come out
we'll let the wheels roll
round
I'm glad I found you
will you
take the wheel
take the wheel
will you
lay your hands so I can feel
where the river rolls
is where the pilgrims go
where the river rolls
is where I want to go
cool water flows
where the river rolls
is where I want to go
where the river rolls
where the river rolls
Saturday night... I just added the second verse-- I am sure to make additional changes, but I truly like this one.
hope you like it as well...
I will try to get a podcast version of this up next week...
Ellis
May 3 2007 - The Long Ride Home to Presque Isle
Thursday, May 3, 2007
The long road to Presque Isle from Boston takes about eight hours to conquer. Antje Duvekota, Flynn and I piled into his boat of a station wagon car and we watched the farmland scenery roll by on a gray day. I haven't been home in ten years, so this journey was a full circle to me. I had married my highschool sweetheart, parted ways about eight years ago and hadn't been back since. My parents had long moved away, most friends were long gone, but I do have relatives in the area and some high school friends still living in town. it was a trip through a time machine.
There is something about the geography of a place that shapes the people that live there. Aroostook County winters are generally long, they stretch sometime into late April and early May. The county is half forested and milled by Paper Companies, the other half is cleared farm lands for potatoes as far as the eye can see. The economy comes out of those two industries, so there are hard working people who brave th elements bringing money in from the land. Even if you are a doctor, lawyer, bake, candlestick maker, in this part of the world you are connected to and work with the people that cull their living from the earth.
I had never performed in my home town. So there was a number of mental hurdles to be crossed, and I was very happy to have Flynn and Antje to bounce stories as we road up thorugh the woods and mounntains into the County.
Above Bangor there is a marked decrease in towns and exit signs, and the constant flow of birch and pines reminded me of what a buffer of woods there is between where I grew up and the rest of the world. We sped past a hazy Mount Katahdin, some six hours north of Boston and the biggest mountain east of the Mississippi.
The string of little white chapel towns along 95n to the Houlton exit kept the scenery looking like Grandma's favorite puzzles. The heart of Aroostook County is a vista of zen farmland and old farmhouses holding strong against the onslaught of winter weather. There was little snow in these parts, perhaps the upside of global warming taking place. I prefer the piles of white to the melted gray stuff, but the land was beautiful. There is an artist's sculpture of the solar sytem done to scale along the northen Maine rte 1 highway. We drove by Saturn and on the way through, and chuckled about how Presque isle was just north of Jupiter.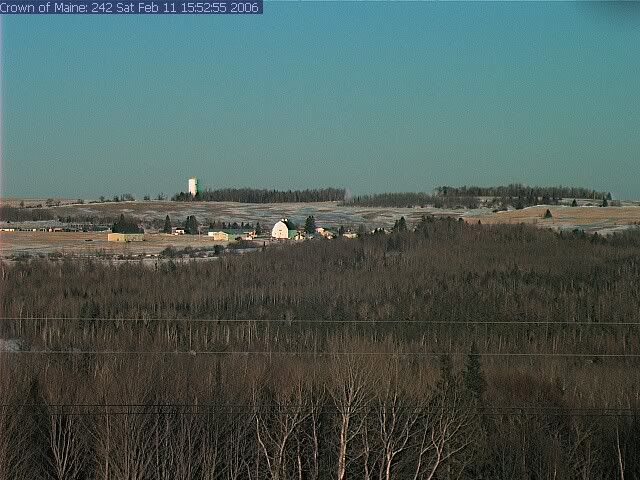 I PLAYED SPIN THE BOTTLE DURING HARVEST BREAK HERE
The University sits up on a hill just as you enter town, I used to spend afternoons running windsprints on the soccer fields there, with great views of the mountains and farms surrounding me.
The folks running the show were kind and we cranked off the dust from the sound system and got things sounding pretty good out in the hall. An old upright piano. A creaky stage.
Antje opened the show and the crowd completely enjoyed her. She sold a bunch of cds and I was so glad the crowd was willing to go where her songs would take them.
The show was in Widen Auditorium and it was filled with a couple of hundred folks. when I stepped into the crowd for "Black Top Train" iIstarted recognizing faces. People came up to me after the show and I could tell they were members of my family tree. They had my father in their eyes, but I couldn't recognize some of their faces since it had been twenty years! Highschool classmates that I recognized right off the bat, aunts and cousins laughing at me, and with me too...
There is always the threat that performing for a group of people that knew you when you were 13 would be the same feeling of playing at a highschool talent contest. But I ended up feeling more connected to the crowd, in a way that I wouldn't have anywhere else. I guess it was our collective experience of being from the same town, the same region, the same landscape. I wish now that i had more songs about Presque Isle, and hope to write some more over the next few years, maybe even do a whole Maine album at some point.
I looked out and saw old teachers and track coaches from my highschoool years over twenty years ago now. I am very glad they took the time to come out and see what I have been up to for all these years. They're the ones to blame, really. Inciting a young mind to believe that he could do anything he wanted to with his life, including traveling around the world with a little wood guitar. The Crazies...
After the show, and after everyone had filed out of the lobby, shaking hands with me and reminding me of our shared histories, Flynn, Antje and I took a tour through the quiet streets of my hometown, and I saw the shadow of myself running at a full sprint up the hill at State Street; getting chased by the cops through the woods and hills behind the houses; making out with my first wife in the back seats of the Braden Theater on Main St.
The town has changed, shrunk in some ways, evolved in others. Or was it me?
The buildings looked older and smaller, but there were some shiny new additions as well. The chains came. A mall had come in and a Walmart, and all these years later, Main Street is starting to finally recover from their presence with cool bars, restaurants, shops, and even a little coffeehouse that has open mikes on Friday Nights. (Imagine if that had been there when I was a kid). The Braden still sits empty with the same Marquee that was up in 1983 when I left home for good.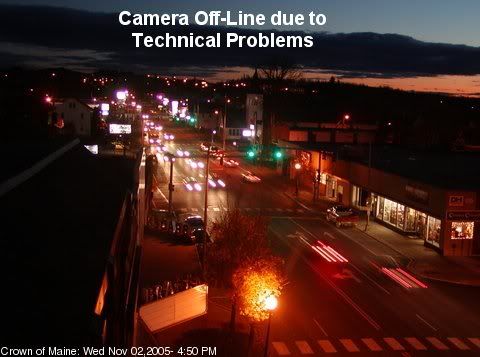 THE NIGHTLIFE OF PRESQUE ISLE , MAINE where I would drive and Look at The Wind Blow
It was a great time for me to travel with friends and see memories and people who meant so much to me growing up. I am going to try to make this an annual journey.. it's good medecine. Quite a few people drove up from all over New England too, maybe we could rent a bus next time and do it together...
And I owe Flynn a trip to his small town near Dublin, and Antje a visit to her's in Germany...
See you out there, y'all, thanks for everything...
Ellis
Booth's Great Escape
Thursday, May 3, 2007
Crozet, VA
Midnight March 4th, 2006
This week I devoured another Civil War book, this one focused on John Wilkes Booth's escape into Virginia after the assassination of Lincoln. I have quite a collection of civil war books now, and enjoy reading them when I haven't got a novel going.
If you're bored already, please escape my verbosity on this-- because it's one of my hobby loves, and Lord knows I can go on about the Civil War. I am sure I can set some of your eyes to half mast within a couple of seconds with this stuff, but let me continue for those who have an inkling of interest, or a lack of eye lids.
The book is called "Manhunt, the twelve day chase for Lincoln's killer" by James L. Swanson. It's an okay read-- I really like that somebody tackled the subject of Booth's escape, and some of the details of the conspiracy to kill Lincoln and his cabinet. The prose is fairly good, but the real art is in the research and details that Mr Swanson seemed to pull from the archives.
Most folks don't know that Booth was working with a group of people he had assembled from within Washington and the bordering towns in Maryland. He had secretly plotted to kidnap Lincoln earlier and sneak him through Maryland into Richmond, the confederate capitol, and hold him there for ransom... He probably had around twelve or so co-conspirators. Many were hung after the murder. Booth and his gang couldn't pull off the kidnapping on the day planned, cause Lincoln changed his plans and didn't show up where they had expected him to be.
The war was nearing it's end and Lincoln was soon re-elected. Booth was fuming when he attended the inaugeration speech. He even appears in one of the photos in the crowd in a fancy white hat. He had a gun in his pocket, but didn't use it.
On the morning of April 14th, 1865, He found out through a friend that Lincoln and his wife and General Grant and his wife, would be appearing at Ford's Theater in DC to attend a showing of "Our American Cousin".
It was a comedy, on most nights...
Booth was a famous actor, twenty five years of age. From a family of famous actors. (Imagine the Baldwin Brothers of today.) Booth was setting up his greatest performance, and he had to do it quickly, Lincoln would arrive in only a matter of hours... His boys were told to assassinate the vice president, the secretary of state, and he would do Grant and Lincoln at Ford's Theater. The Secretary of State, William Seward, was bed-ridden after a serious carriage accident. Booht's conspirator, John Powell, over came numerous obstacles and people to force himself into Seward's room with a ten inch knife. He attacked Seward, who was wearing a metal neck brace, but couldn't kill him because the brace protected Seward's jugular vein. He did a heck of job disfiguring Seward, who chose to be mostly photographed thereafter in profile to hide the scars of the wounds he received that evening. He had a tough night. Though not as bad an evening as the president was experiencing across town.

The Grant's had begged out of the play, Mrs. Grant wasn't fond of the first lady's eccentricities, and the Lincoln's had to find someone else to attend the theater with them.
They chose Clara Harris, a senator's daughter, and her fiance Major Henry Rathbone. Booth came through the alley to the back of the theater. Had someone hold his horse there, then passed inside, underneath the stage the side with Lincoln's box. He eventually worked his way quietly into the box, barred the door shut behind him, and held a derringer, one shooter to Lincoln's skull. He nearly missed. Lincoln leaned forward just as Booth pulled the trigger and the bullet caught Lincoln just below the left ear. Lincoln immediately slumped forward. Mary Todd Lincoln screamed. Rathbone rose to defend the President and Booth raised a blade and stabbed him deeply, just above the elbow. Then he jumped from the President's box seat-- his spur catching a draped flag, caused him to lose his sense of balance. He landed awkwardly on the stage 12 feet below, and broke his left fibula above the ankle. He screamed "Sic Semper Tyrranus" (Death to al Tyrants!) and held his knife high. (This was the state motto of Virginia, fortunately he didn't shout "Virginia is for Lovers!" which is the contemporary motto, which would have really confused the crowd...)
In a side note, Rathbone himself ended up killing his wife many years later, and ended up living in an insane asylum in Germany until his death.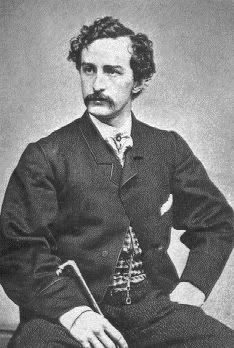 John Wilkes Booth
Booth ran to the alley, jumped on his horse and was off-- being an actor, he convincingly lied his way past check points, and he eventually found one of his accomplices on the road in Maryland. They traveled together to Doctor Samuel Mudd's place to have Booth's leg looked at, and to get some food and rest. Mudd was going to be one of the safe house in the kidnapping plot, but he didn't seem to want to be associated with assassination. He ended up concocting a see-through lie to authorities to cover his tracks, but Mudd was in a messy situation. He got four years in prison, and from that day the phrase "Your name is Mudd" was used to describe people who were liars...
A few days later, the feds caught up with Booth and his buddy John Herold. they had been locked in a barn by a family who thought they were horse theives. The feds set the barn on fire when the pair refused to give up. Herold walked out, but Booth got ready for a shootout. A soldier named Boston Corbett took aim, and shot him in the neck through a slot in the barn, and paralyzed Booth. he died a few hours later.
If any of you have any good Civil war tidbits to share, let 'em rip.
I hear George W Bush has been comparing himself to Lincoln lately. To keep the comparisons at a distance, I suggest he stay away from hunting parties with Vice President Cheney. and stay away from the theater...
see ya'll soon!
Ellis
Mar 21 2006 - FAVORITE SONGS PART ONE
Thursday, May 3, 2007
3-21-06 Charlottesville, VA

Hey y'all...

This list is a set of songs I compiled for WFUV in NYC of my favorite recordings...

I left a ton of them out, but these songs came to mind in a flash. I left Ellis Paul out entirely due to a conflict of interest. Why dont' y'all list your top ten... it would be an interesting conversation... I allowed one song per artist, I could have done a list with just woody, dylan, or the beatles... I left out great songs like Wild World (Cat Stevens) Satisfaction (The Rolling Stones) Mona Lisa (Nat King Cole) and, surprisingly, the entire Bee Gees catalogue. Some may appreciate this.

maybe we could lists of our favorite obscure folk songs..

Ellis
Charlottesville, VA

10 favorite pop songs... (great songs, that happened to go ka-ching for those who wrote 'em)

fire and rain... james taylor
you don't know me... ray charles, he didn't write this
heart of gold... neil young
Maggie Mae... Rod Stewart
Sonny Came Home... Shawn Colvin
Cat's in the Cradle... Harry Chapin
One... U2
Lose Yourself.... M and M
Hey Jude.... the beatles
Imagine... John Lennon

10 favorite folk songs (songs about the human condition)
The Lonesome Death of Hattie Carol... Bob Dylan
Christmas in Washington... Steve Earle
Judas... Antje Duvekot
When I was a Boy... Dar Williams
Birches.. Bill Morrissey
Angel in Montgomery... John Prine
Deportees... Woody Guthrie
Both Sides Now... Joni Mitchell
American Pie... Don McClean
the City of New Orleans... Steve Goodman

10 favorite singer/songwriter songs (personal, private tales of loves and woes)
32 flavors... Ani DiFranco
Magnolia Street... Catie Curtis
I saw a stranger with your hair... John Gorka
Arrow... Cheryl Wheeler
The Other Side... Don Conoscenti
Ten Year Night... Lucy kaplansky
Are you happy Now?... Richard Shindell
May I suggest... Susan Werner
Unfamiliar Moon... Vance Gilbert
Ain't Life a Brook... ferron


Christ... this was hard.. Ellis







Apr 16 2006 - Selecting Songs for the "Best of" Recording
Thursday, May 3, 2007
Happy Easter
April 16th, 2006

Hey y'all,
I am trying to assemble the songs for my "best of" album, which hopefully will be out in the Fall if the label and recording gremlins are held at bay.

I know we have had this conversation before, on the discussion board, but I would like to get a sense of what you think should be on it. I am planning on a two record collection of songs, twenty-six songs total. One cd wil be a more rocking, poppier collection, and the other a quieter singer/songwriter folkier collection. There will be some live versions of the songs, and I will be rerecording a few of the songs as well, so the album sounds fresh to people who already own the material.

I DO know the following songs will appear as per my choice....

1) Maria's Beautiful Mess
2) Sweet Mistakes
3) Conversation with a Ghost
4) 3,000 miles
5) The World Ain't Slowin' Down
6) JUkebox on My Grave
7) Take All the Sky You Need
8) Paris in a Day

There will be a few (two or three) new songs on the recording as well... perhaps "Welcome Home to Maine", "Snow in Austin" and others...

I am trying to balance the collection between my best story songs, melodic songs, and the best of the lyrical songs, so people get a clear picture of who I am as a songwriter. Think of your choices as a way to explain what I do to people who are purchasing the music for the first time. In other words, don't just throw out one dimensional choices, like all love songs, or all pop songs, or all folkie stuff...

Thanks again y'all--
hope your easter was a happy one... ella woke up today with a smile on her face as she darted around the house finding colorful plastic eggs with little elmo stickers inside...

Ellis



May 30 2006 - back Home in Charlottesville after a whirlwind tour
Thursday, May 3, 2007
May 30th, 2006
Charlottesville, VA


Hello y'all--

I am back in Charlottesville after a whirlwind of a trip through Europe and back to New England. More on those shows a bit later, but I would like to thank everyone involved in the shows in Germany, France and Britian for all the support, and I can't wait to return. I have never drank as many pints as I have over the last couple of weeks. i could see disappearing into the European Pub culture and never coming out!

II am now back home drying out, and I am starting the recording process for the "best of" album and have narrowed the song selection somewhat. Thanks so much for the input, your lists revealed that I need to keep "Did Galileo Pray" and "The Speed of Trees" on the record! And it confirmed some other choices as well, such as "Roll Away Bed" and "The Martyr's Lounge" among other things.

I am recording in Charlottesville over the next few days with John Jennings, who has produced John Gorka, Mary Chapin Carpenter, and Bill Morrissey. We are recording a few of the classics (if you Break down, words, and Maria's Beautiful Mess) and taking a swing at at a couple of new ones.

Don Conoscenti, on acoustic guitar, is flying in from Chicago, and Dave Maddox , on drums, formerly of Fairport Convention, is coming in from Boston as well. We will be recording six or seven songs.




The plan is for between 26 and 30 songs. Here are the certainties...

1) Paris in A day
2) Conversation with a Ghost
3) Take All The Sky You Need
4) She Was (live)
5) Weightless
6) 3,000 miles
7) Sweet Mistakes
8) Midnight Strikes too Soon
9) Snow in Austin live
10) Jukebox on My Grave
11) home
12) Black top Train
13) Seventeen Septembers
14) The Speed of Trees
15) Words
16) The World Ain't Slowin' Down
17) Welcome Home to Maine (new)
18) Autobiography of a pistol
19) Take Me Down
20) Angel in Manhatten live
21) God's promise
22) Eighteen
23) Maria's Beautiful Mess
24) Martyr's Lounge
25) Roll Away Bed
26) If U Break Down

the remaining 4 will probably be chosen from the following, but if you have one I haven't mentioned let me know... and please vote again for the remaining four slots.....


If she's the one (new), Rose in a Cage (new) Seven, Last Call, new Orleans, Deliver Me, All Things Being the Same, Look at the Windblow, the only way, Bad, Bad, Blood, Never Lived at All, Here She Is, Ballad of CHris mcCandless, King of Seventh Avenue, Kiss the Sun


Thanks for the input, and I hopefully will have this thing done by July 1st!

Ellis




the Discussion board is down, we are working on a new one
Thursday, May 3, 2007
June 20th, 10:30am

good morning y'all--
good news and bad news today...

bad new first-- the discussion board was hacked into this morning and successfully disabled. We will rebuild it this afternoon from scratch, and you will probably have to re-register. Apologies for this, we will try to make a more secure new discussion board and have something up this afternoon. we can rebuild it, we can make it stronger, faster, better, and we will. Doctors say that when a bone breaks, the place where it heals actually becomes stronger and more reinforced when it has healed. So shall we.

Good news-- I am in the final day of mixing the best of album's recordings with John Jennings in Charlottesville. I am very happy with the results. We have done new versions of:

Maria's Beautiful Mess
words
Home
Welcome Home to Maine
if you Break Down

and will be mixing live versions of
Jukebox on my Grave
Snow in Austin
She was

a live version of The Speed of Trees will also be on it.

As will album versions of--

Take me down
take All the Sky you Need
Paris in a day
Midnight Strikes too Soon
Black Top train
Conversation with a Ghost
World Aint Slowin' Down
Martyr's Lounge
17 septembers
Eighteen
Angel In Manhatten

I am still doing battle with myself over which of the rest to include, but have a good idea--
some candidates--
Deliver Me
She Loves a girl
seven
i won't cry over you
new orleans
autobiography of a pistol
weightless
Galileo

they all won't be on this, but I will release a final list next week!

Thanks for reregistering at the board, and we'll see y'all soon1
Ellis






Aug 2 2006 - Sports and Music, Drugs and Enhancers
Thursday, May 3, 2007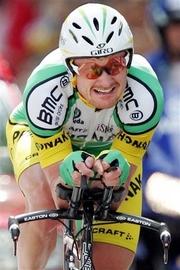 Charlottesville, VA
August 2nd, 2006


I' m gonna ramble on about my disappointment with the sports world.. I crave news stories of fantastic human accomplishment. Especially in sports. They break up the monotony of my week-- i go the sports pages specifically to find them-- the record breaking runner, the blind mountaineer scaling Everest, the fastest, strongest, The world record setters. As a certified couch potato, I live vicariously through the physical accomplishments of others.

My legs burned when I read the stories detailing Floyd Landis' incredible comeback in the Tour de France. When I read that Justin Gatlin ran 100 meters in 9.77 seconds, I felt winded. When Barry Bonds cracked his 715th home run and passed Babe Ruth on the all time list, my hands ached from the imaginary grip on the bat.

I occasionally take a tape measurer out and mark 29 feet four inches across my living room. The world record for the long jump. I can't believe a human being could be airborne for that great of a distance. The high jump record is just over eight feet high. I marked that on my wall. Someone got their entire body over that height with nothing other than muscle for jet fuel. It's amazing.

But I doubt everything now.

Baseball, football, track and field. I have no faith anymore.

Cycling.

I even doubt my two year old daughter when she's racing her tricycle across my living room floor. "What's really in the juicy cup, Ella?!"

I'm starting to wonder about Tiger. Jordan. Who is real? Who is clean? Flo Jo has the women's world record for 100 meters in track and field... 10.49... I doubt that a woman can run that fast today without the added fuel of a steroid or two. The record is one of the oldest in the books and is still would finish more than 20 yards in front of the second fasest time.

Maybe we should just have a drug league in sports so these crazy competitors can see how far steroids will take them? Imagine someone who dwarfs Mark McGuire, hits 100 homers in a season. Imagine a sub 9 second 100 meters. A 40 flat 400 meters.

Mankind broke the four minute mile in the 1950's, it was something even reasonable people doubted could ever be accomplished. Now a skinny legged African has run 7:58 for two miles. Did he cheat? I dunno.

But I want my athletes clean!

My musicians however, are another story. Do what you got to do for the art, brotha. Bob Marley-- please, light the spleef... whatever you got to do to get to "No woman, No cry"... Lennon drop acid, please, whatever you got to do to get to "Lucy in the Sky with Diamonds" Dylan... please do speed if you gotta write like a freight train to get to "Like a Rolling Stone"! Morrison, here's some whiskey for the last verse of "Light My Fire". Heroin for my heroine, Billy Holiday.

I want my musician's dirty.

aaaaaahh.. I'm joking ...really. Most musicians are often are just thrown into that kind of behavior in their careers anyway, it comes with the job, alchohol, pot, recreational drugs, all exist in the confines of nightclubs, festivals, bars... I don't wish addictions on them. I just want them to be to get beyond the normal confines of human artistic limits. Drugs can help make that happen, drugs can bring the whole house down. I'm sure there are some musicians who were wildly successfully who clearly never took drugs. Debbie Boone for example.

Maybe they should try steroids... imagine Bob Dylan on steroids... Or Little Richard... Imagine Barry Bonds on acid, for that matter.

The stigma of Barry Bonds doing steroids is worse than the stigma of Elvis on speed. We expect our entertainers to get by on a little pill, but not our athletes. I think we should have the Rolling Stones pee in a cup before every show so we know they aren't tainted in concert. That would make for a good clean show. Ron Wood just went into rehab, Keith Richards just fell out of a coconut tree.

These guys still know how to party.

When an entertainer goes down in a drug induced beakdown, Robert Downey for example, Mel Gibson, Marilyn Monroe etc., there is a morbid fascination with the Fall. Intrigue. Some sympathy. Some wonder at how someone who has everything money can buy, could fall apart to the point of losing it all. They are addicts, and victims of an illness. When an athlete falls from grace due to drug use, he is a cheater. A liar.
He's not addicted to testosterone, steroids, blood doping. He has cream rubbed on his legs. He's not smoking crack in a dark alley. He's not waking up in a neighbor's bed room. There's no evil underbelly to it. it takes place in a locker room or doctor's office. When American's do it, it is even more frustratin got me. They already have been born into this silver spoon nation, where every opportunity is laid before them. Better facilities, more money for training, better doctors and science, better sponsorships. They already have a distinct advantage, just by being American. If someone in Ghana uses steroids, I almost can't blame them for trying to level the playing field. it's till wrong. But how much of a chance do they have?

I'm a music fan, and a sports fan. I accept my hypocritical perception of drug use in each realm. Some drugs are bad. Some have saved billions of people from cancers, infections, disease. Sports drugs are bad. They helped set world records. Music drugs, well, they've helped create the white album. Which is good. We live in a world where people are gonna do what they do to get by. Some mennonite kid is going to forget why he got this pure joy out of being on a bike, forget how it road him out of a small backwoods community and into a culture of need and greed, where winning is more important than the ride. There is some 12 year old kid inside him reminding him of the magical ride he had through the woods on some night where the yellow jersey didn't matter. or the lucrative nike sponsorship, or the today show interview. when dreamin of success was all you needed to get to the next mile marker.

Anyway... just thought I'd rant. There is a statistical way to analyze records that fall outside the normal bell curve. maybe we could really scrutinize athletes that are off the charts and hold onto their blood samples and test them when technology allows a thotough investigation. Then we would really know about Flo Jo, Marita Koch, and others...

see y'all out there soon!
Ellis
Oct 20 2006 - A Weekend to Remember
Thursday, May 3, 2007
A Weekend to Remember
October 12-16th, 2006


Crozet, VA Oct. 20th, 2006

I ran out my door in Crozet on Thusday at 10pm, to drive as far as my eyelids would allow me, the journey came packed to the gills with a car full of guitars and fresh outta the oven cd's streaking down highway 64 west at 70 plus mph-- I had the new album cranking on the stereo, enjoying the sequencing for the very first time, watching the moon on the horizon. By 3 am with talk radio pulling my eyelids slowly down, I said to myself, "pull over", and I curled up in the sheets of a little Ohio motel , with crickets in the background playing their midnight symphony.

The buzzing of an alarm clock hit my ears like a sledge hammer and I stumbled out to the CRV and was road bound again, for the tiny Ohio town of Yellow Springs and WYSO, a little community radio station that does big things for that part of Ohio. They were fund driving on the air and I threw them a couple copies of the new cd, and sang a couple of live songs and then scooted out of there for the Dayton airport to pick up Antje Duvekot who was opening for me over the weekend of shows.

Canal Street Tavern was our first stop, there in Dayton. I have history here, good friends, great memories. The place was started in 1981 by Mick Montgomery, who still counts the cash into the palm of your hand at the end of the night. The place has a slew of greats on the walls, Bela Fleck, John Sebastian, Woody Guthrie. The wood on the walls and trim is dark, and the green room is completely covered with band graffitti, names and greetings, slurs and put downs. Twenty five years of bands and song writers come and gone. I've signed the walls twenty times over the years. Twenty-one, tonight.

Antje went on for her set at Canal Street and immediately started quietly confronting God with a song, and then dropped the f-bomb and left the peaceable audience of midwesterners reaching for a gulp of oxygen. You could hear a pin drop, she wove her quiet magic and sold a bunch a cd's and maybe altered the dna of a few of those folks in the audience.


I went on an stomped and screamed and whispered my way to a two and a half hour set, stepping down the stairs at 1:15am, one of the latest shows i have ever played. The crowd was boisterous, especially a gang of Shakespearean actors in from Cincinatti for the show. They made me feel like Elvis. (early Elvis, the alive one) They were raising their glasses to Alice's Champagne Palace, (which is becoming quite a spontaneous habit at the shows. Starting to feel like Rocky Horror Picture show. I'm waiting for someone to show up as an Angel in Manhatten next) and they shouted out for my western style suede shirt. I love Canal Street, it was one of my first venues on the road back in 1992. I have had a few doozy moments there-- I was inspired to get my Woody Guthrie tatoo there, among other wild times.But tonight was one of the best shows there in memory. I did alot of older stuff, Here She Is, Kristian's Song, and even a version of Ring of Fire. Antje sang some beautiful harmonies, and it made me miss her on those times ahead, when she will be doing her own shows, apart from mine. Nice to enjoy the moments when we can sing together. She sprinkles a bit of fairy dust when she lays her notes sweetly over my songs..

If you are live in Ohio, give WNKU or WYSO a call and request something from the new Essentials album... I suggest "Home" if you're feeling quiet, or "Sweet Mistakes" if you feel like noise...

I crashed in Dayton at my friend Bruce Twiss' place, an antique museum bed and breakfast that I have been crashing at for ten years. He made me soup and crackers and we caught up with a years worth of our lives, and by the time I slid into the sheets, the clock was informing me that it was 4:30 in the morning.

9am came buzzing into my dreamnworld and tapped me on the shoulder with the sledge hammer again. I crawled out of bed to the CRV and I swung by Antje's hotel and we drove north on I-75 towards Detroit to pick up our manager, Ralph Jaccodine.

We paced around the streets of Ann Arbor window shopping, a nice japanese Print shop there. We met with our kind hearted booking agents, Adam and Jim, over Japanese food, and then did a show at the Ark, another one of America's best acoustic music venues. They have a beautiful piano. I am trying to learn "Home" in a key that uses the black notes. So i don't have to scream to hit the hihg notes. I like how we did it on the new cd, it's in a comfortable key for me.

Antje's set went very well, I think my booking agents loved her, which would be great for them all. And then i went on and did my set, and had a great time playing their lovely grand piano. The Detroit Tigers had just won the American league title just before the show started, and a collective scream of joy came over them when they heard the news of the game winning home run being belted. Needless to say,they were in a great mood by the time i stepped onstage. Any team that eliminates the Yankees immediately becomes my favorite team. GO TIGERS!!!

if you live in the ann arbor Detroit area, call WDET, or WCSX and request "Home" or 'Sweet Mistakes", or anything you feel like hearing that you think the world should hear.

After the show, we were brought to an Ann Arbor restaurant named EVE by my long time friend Tarek. Tarek knows good food when he sees it. The staff at EVE had stayed open for us and knew we were coming, and we were treated to one of the best meals I have had in years. Great wine, great deserts, and a wonderful way to cap the evening-- little shot glasses of white and dark chocolate. we closed down the restaurant at 1:30am. I made it to Jim Fleming's fluffy guest bed by 2:30 am, and slept with a big smile on my face. I think I still had chocolate on my lips, because I had some happily perverse dreams during the course of the evening.

By 6:30pm the next day we were in Chicago at Schuba's playing one of my favorite stages in America. This little weekend tour truly has some of the best venues around, and it is tough to have a bad night on any city on the trip. Antje really did well in Chicago, sold 44 cd's and the crowd was really mesmerized. I sang a couple of songs with her, "Acadian Driftwood" by the Band was a highlight. We really enjoy singing together. it reminds me of singing with Patty Griffin back in the old days, Like a wool blanket on a cotton sheet. After her, I played for a good two plus hours and did a few requests and really enjoyed myself. She returned the favor by singing on my stuff. I think we had the crowd feeling like it was a Saturday night before the end of it. They seemed too raucous for a Sunday night crowd. I should record a live album here sometime, regardless of what day of the week it is.

I stayed at my friend Joe Roth's place-- high in a tower over-looking the twinkling lights of the Navy Pier ferris wheel. We caught up with each other's lives, and laughed about our shared Don Conoscenti experiences. The view is incredible at Joe's, 180 degrees of water and Chicago skyline. I could look out that window for days and never think about turning my back. It's a lake disguised as an ocean. It's a small town disguised as a metropolis.

It was 2:30am before my sleepy head found it's target.

And then Grand Rapids, Michigan, an interview at WYCE, and a show at One Trick Pony, a great restaurant in town that has live acoustic music. The place was packed. Antje and I song swapped on this show, and sang on each others stuff, almost like a duo. It was great fun, and a perfect way to end the weekend. We crawled back to the bed and breakfast exhausted and caught up with each others lives.

Traveling on the road can mess with your sense of time, Seasons blur, faces converge, pillows coagulate. You can sleep too little, drink too much, play too hard. Wake up with no idea what city this ceiling belongs to. The payoff is a rich life of experience, of people and places, sites and sounds. ferris wheels, toll booths, fast food, gourmet restaurants, nachos, filet mignon, soul food, home cooked meals, beers and ales and cappucinos, bed and breakfasts with clouds for beds, sleeping in the car with a stick shift in your privates, a friends couch, an occasional floor, back stage a cross a couple of chairs. It's life in the extremes, fast paced, get there quick, then sitting around waiting for a plane, or a sound check for hours. it's stories heard and stories told. a cup a coffee at a greek diner with friends.


Then there is home, one place, roots dug all the way down through to the iron core of the planet, holding tight there, with a pretty woman and a little girl standing back up on the surface like a big old oak tree, saying "I love you Daddy", and then, yep, there it is, holding still can feel pretty damn good too.

See you out there! And please call your local AAA or NPR or college or folk station and request the songs from the new cd that move you.

Thanks for everything!
Ellis


Babyville, VA
Thursday, May 3, 2007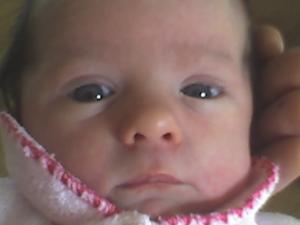 Feb 21, 2007
Crozet, VA

I AM WRITING FAST CAUSE THERE'S A NEWBORN DOWNSTAIRS WHO COULD AWAKEN AT ANY MINUTE AND DEMAND SOMETHING OF ME. A BOTTLE, A CUDDLE, OR THE DREADED DIAPER CHANGE. IT'S NOT THAT I DONT LIKE THE DIAPER CHANGE. TRUST ME, I CAN HANDLE THE MOSAIC MUSH OF COLORS, SMELLS, AND SOUNDS. IT'S JUST WHAT A DIAPER CHANGE DOES TO TIME, AND TO ME AND MY SENSE OF TIME, AND MY SENSE OF SELF IN TIME.

EINSTEIN SAID THAT IF YOU TRAVEL FAST ENOUGH, YOU CAN ACTUALLY BEND TIME MUCH LIKE A TIME MACHINE, AND THIS HAS BEEN PROVEN BY SCIENCE AND AIRPLANES WITH MICROSCOPICALLY TINY SHIFTS IN TIME.

THE PROBLEM WITH DIAPER CHANGES IS ANXIETY. tHE CHANGERS ANXIETY, USUALLY SOFI DOESN'T SUFFER FROM THE SAME PROBLEM BECAUSE THERE'S NO ANTICIPATION OF IT'S ARRIVAL, IT JUST COMES NATURALLY.

THE PROBLEM FOR ME IS THAT OCCASIONALLY SOFI DECIDES TO GO WHILST MID CHANGE. GEYSER LIKE. BOTH NUMBERS, 1 AND 2. THEY HAVE APPEARED BEFORE ME IN THIS MANNER, AND ON ONE OCCASION, I WORE A BROWN/PEASOUP GREEN STAIN ON WHAT WAS ONCE A PERFECTLY CONTENT BLUE COTTON SHIRT.

WHAT THIS CRISIS DOES TO TIME IS AS FOLLOWS--

TICK... TOCK... TICK...TOCK (WAITING HERE, DIAPER CHANGE IS COMING) TICK, TICK, TICK (HERE WE ARE MID-POO, ALL THE SIRENS ARE RINGING)

TICKTICKTICKTICKTICKTICKTICK, (WITH BABY I AM RUNNING TO THE CHANGING TABLE)

TICTICITICITICITICIT ( MOVING NOW AT THE SPEED OF LIGHT, A QUICK WET WIPE SQUEEGY STYLE SWEEPING OF THE PRIVATES, i PULL THE USED UP SOPPY DIAPER FROM HER BUM AND WIP A FRESH ONE MASTERFULLY BENEATH HER BEFORE A TRANSITIONAL EXPLOSION 0F WEE-WEE--POO-POO CAN HAVE ANY PROMISE TO OCCUR)

THEN THE LANDING: A QUICK CLEAN, CLEAN, CLIP, CLIP, SNAP SNAP, AND THE LITTLE TUGBOAT IS READY TO GO!.

i PRIDE MYSELF ON CALMNESS. MY LIFE IS CRAZY. BUT IN THIS ONE MINUTE, I BEND TIME. I ACCOMPLISH MORE IN 60 SECONDS THAN I DO ON WHOLE AFTERNOONS.

SHE IS GURGLING. I MUST GO.

written later--
Then there's this. When I have to walk Sofi Rose about the houseand put her in that comatose deep won't wake up for hours sleep, before laying her in the baby swing or wherever she is going down for the night. It is just slow monotony. And I can't rush this. I cant put her down too soon, or I have to do the loops all over again from the beginning. I learn how not to fight time here. I have nothing I need to do, I have no book, or guitar, or song. I block them out in the shadows and corners, or they affect my patience, and my timing, and my ability in numbing her to sleep.

Sofi is blue eyed and a brunette, and she looks vaguely like Winston Churchill, or WC Fields, Stan Hardy or some other middle-aged, overweight, slightly drunk man. She manges to be beautiful despite this. She is calmer than Ella was, a little buddha-like. Where as Ella seemed shocked to be out of the comfort of the womb, her first three months were like a person getting off a plane thinking it's Hawaii and immediately getting put through some kind of ritual survival challenge in Antartica, it seems like Sofi landed saying "This is exactly how I pictured it, though the people are taller in person"...

I walk around the house in a figure eight, the top loop is around my staircase, it's 35 steps around, step 26 is a squeeky floor board that echoes through the house and flutters her eyes awake every pass. I gently step here. The bottom loop is through the kitchen and pantry and is slightly shorter, 33 steps, with one bright hallway light where she tightly closes her eyes. I cradle her in a blanket in my arms and gently pat her bottom, watching her jowels softly shake with each tap. The adult version of this ia a $.25 cent vibrating bed at some cheap hotel on the Vegas strip. On each pass the seconds stretch, I keep my sanity by counting steps and loops and floor squeeks and singing "You are my sun shine" like some kind of whispered mad house mantra, and then I start thinking about how the song is really a depressing ode to death and loneliness. Itsy btsy spider, maybe. Ahhrg. I hate arachnids.

I need to find the baby whisperer in me.

Come on Sofi... SLEEP! You are getting sleeeeeeepy... sleepy... sleepy.

This can take either five minutes or over an hour.

and then she looks up at me with those damn Ghandi eyes, like "whats with the oppression, Daddy?"

"BE HERE NOW."

I figure it took Winston Churchill three vodka tonics before his eyes went to half mast, and his acerbic wit started wittling the egos in the room, until he owned the place.

Sofi needs 4 ounces of breast milk.

and three burps, over easy.

with love, see y'all in March--
Ellis


Nov 27 2003 - Happy Thanksgiving
Thursday, November 27, 2003
Posted: Nov 27, 2003 8:46:01 pm Thanksgiving
2003...Hey y'all--
I am sitting in my home in Maine contemplating what a beautiful year I've had-- getting married to a wonderful human being, traveling with the court jester of folk around the country, learning and recording new songs from old friends, writing with people for the first time, traveling around with a group of Woody Guthrie heads and meeting thousands of people along the way...What a journey this year has been! I am now putting my nose to the writing grind stone and I hope to have an album of songs ready to go into studio with by the end of May! Wish me luck! You will be hearing the new songs as they arrive and many forgotten older ones in the upcoming months...Have a safe and happy turkey day, or tofu day if you are into that kind of thing...Many, many thanks...
Ellis ScottAJCampbell

Posts: 13
Registered:
2003-10-20
Posted: Dec 13, 2003 3:17:08 am And a Merry Christmas to you E Paul.. "here's hoping Santa brings you what you asked for"..Now make 2004 a year to remember!
Developer|Administrator|Editorwww.flashmacromedia.com
www.nhwall.com
www.ITGProductions.comEllis Paul fan....